How to Archive Zoho Mail Emails Manually?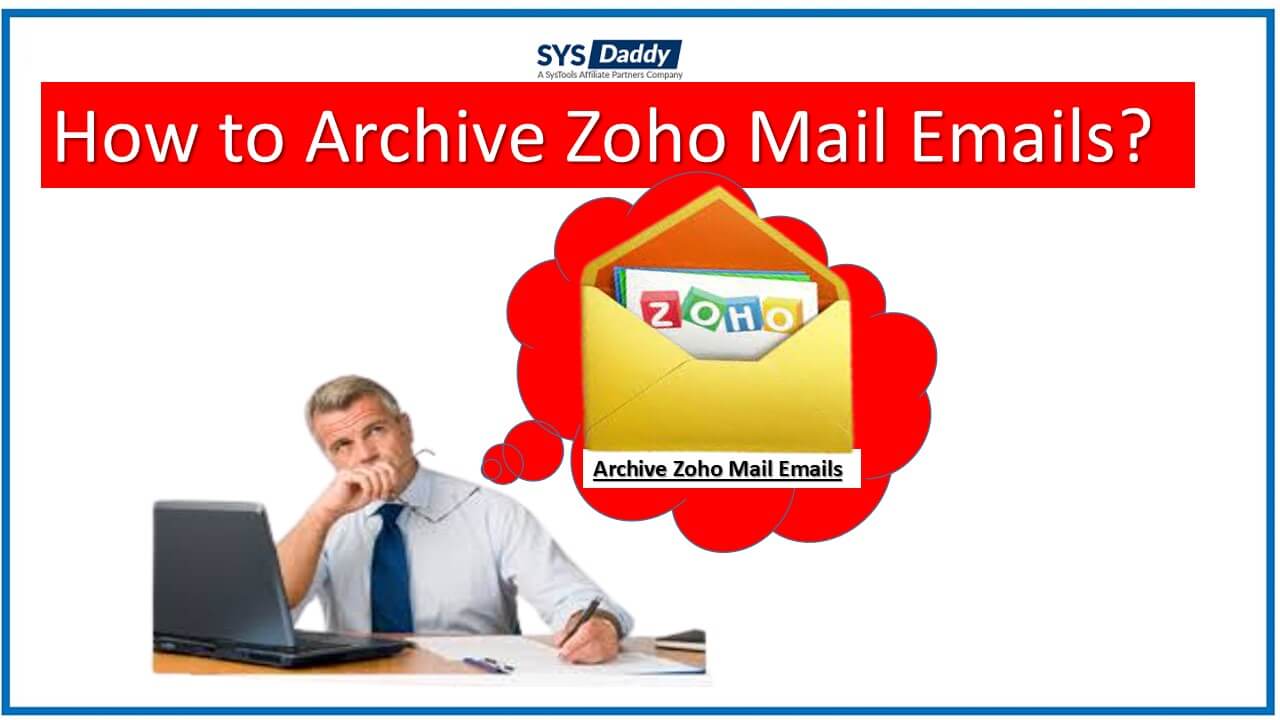 Summary: If you are the one who is looking around for the solution to archive Zoho Mail emails. Then, be here, because in this article we will be discussing the solutions on how to download Zoho Mail email folders.
Zoho Mail application is well known to make customer relationships. Though it provides you the service to communicate to your clients and others. It comes with different amazing features like ad-free, minimalist interface, and more. But, it does not provide an option to extract email folders from Zoho Mail. Hence, it is important to have security. So to make it secure and your emails. The best way is to archive them in one place. In this way, you will be able to access them in offline mode anytime.
But, before going with the solutions to make this task done. Let's first discuss the reasons behind downloading emails from the Zoho account.
What are the Needs to Archive Zoho Mail Emails?
Don't you want to know the actual reason behind this change? Maybe some of you are not fully aware of the requirements to download
email folders from Zoho Mail. So, let's concentrate on some of the reasons here.
It is better to archive all email folders from Zoho Mail to avoid any accidental deletion of Zoho mailbox emails.
By downloading them at a safe place, you can free up the storage of the Zoho Mail.
Also, when you archive the mailbox email folders then there are fewer chances of hacking or any virus attacks from outsiders.
By doing so, you will be able to secure your Zoho Mail emails from any spam.
Moreover, sometimes you may want to access the emails of your Zoho account offline, then archiving them is the best way to do so.
Just like these, there are multiple reasons which make users like you to download all the email folders from Zoho account. Now, let's understand what can be done to get this work done.
Solutions to Download Email Folders from Zoho Account
To archive Zoho Mail emails there are two workarounds available –
Now, to understand both of them in detail, go through with the next section of the article.
How to Archive Zoho Mail Emails Manually?
So, if you want to perform this task with the manual method. Then, for your information, there is an in-built feature called the Export/Import option. By using it, you will be able to download emails from Zoho Mail account. To do so, follow the below-mentioned steps –
Initially, login with your Zoho Mail account
Then, navigate to the Mail option, here choose the View Archived option
After that, check the Select All checkbox and click on the Unarchive tab
By selecting it, choose the Settings icon on the top right
A pop up appears as Settings Section Wizard, here you will get numerous options to filter
So, here, just mouse-click on the Export History button to download Zoho Mail email folders
When you select it, the Import/Export wizard will arrive, here, select the Export section. Then, choose the Select Folder option
From the drop-down option, pick any folder that you want to archive
Once selecting the required folders, click on the Export Date. By selecting this, you can decide from which date you want to have the archived emails
Then, if you want to include subfolders of each email folders then check that option
After this, Zoho Mail will deliver you a notification that the archiving process is done. You will get a zip file link in which your all Zoho emails are stored
Eventually, mouse-click on the Zip file link to download it. You will get all your Zoho mail account emails into your computer. For your information, the Zip file will be downloaded in the EML format, so if you want to use it in another application that you can do it also.
Download Emails From Zoho Mail Using Automated Method
Due to the above manual method, there is no high chance of proper archiving. Plus you will get more confused and tired. Therefore, to save you all from any mishappening we are here with a proficient method. The automated and trustworthy solution is SYSDaddy Zoho Mail Backup Tool. By using this software, you can easily create a backup of all your email folders of your Zoho Mail account at once.
Furthermore, it has been pre-tested by the top technicians. By doing so, now it is well designed with an interactive graphic interface. So that, any of you whether aware of advanced technologies or not can use it easily. Along with this, this standalone wizard is available for both Windows and Mac users. Hence, whatever versions you are using of the OS, all are compatible with it.
Or if you want to operate the free demo version first, then go with it by downloading it from below-
For Windows
For Mac
Steps for Archiving Zoho Mailbox Folders Instantly on Windows
To do the task automatically, first, download the software on your Windows OS computer. Once you are done with the proper installation just follow the steps –
In the first step, you have to enter your Zoho Mail credentials and click the Login button

Now, from the next screen, select any file format from the given options

After that, apply Advance Filters, or check all the Email folders that you want to archive

Finally, hit the Start button to initiate the process to archive Zoho Mail emails instantly.
Instructions to Download Zoho Mail Emails on Mac
If you are a Mac user, then download the software for Mac OS. Just after this, follow the instructions given below –
First of all, add your Zoho Account Credentials and mouse-click the Login tab

Secondly, pick any format from the Select Export Type to archive Zoho Mail emails

Afterwards, check all the Advanced Settings options as per your requirements

Lastly, tap the Start Backup to download email folders from Zoho Mail on Mac.
Conclusion
As you are aware of the usage of the Zoho email client. Though it has been used to build the customer relationship and solve their issues. But sometimes, it is become necessary to archive Zoho Mail emails to secure all your important emails. So, here, in this article, we have mentioned manual and automated workarounds for you. Though the manual workaround is not much feasible, hence, we recommend you to choose the automated solution given above. However, the final choice is yours which method you want to go for.