How to Delete Email Account Permanently from Yahoo Mail? (2022 Updated)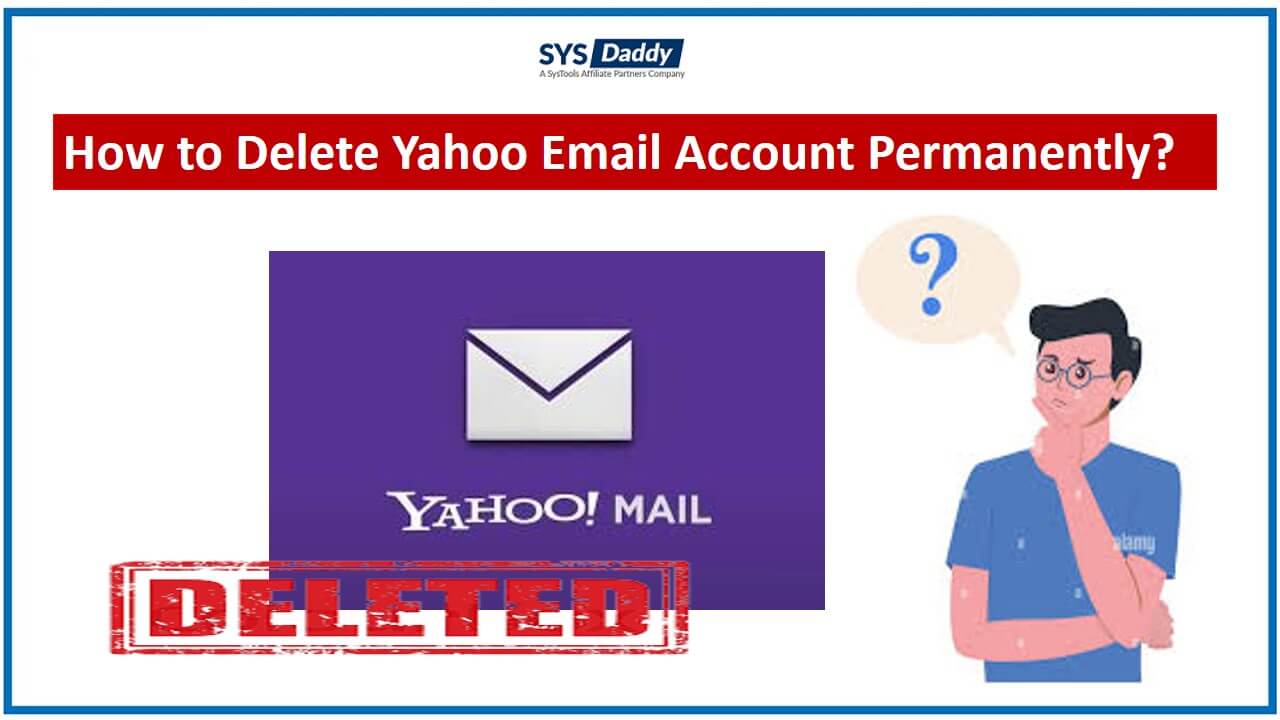 Priya
| Published: 2022-03-25T06:49:58+00:00|
Yahoo Mail
| 6 Minutes Reading
Hi, I have been using the Yahoo Mail for a long time. But a few days ago my account got hacked by someone. However, somehow I got my account back again. But, I have decided to delete Yahoo email account permanently now. As I don't want to take a chance to hamper my crucial emails. Can anyone tell me how do I delete my account from Yahoo Mail?
Though there is a time when you want to upgrade to the email client. Or sometimes, you like to switch from old email clients to a new one that is currently used by everyone.
However, emails are very important regardless of personal and professional use. As these are not only for having a conversation about something. But, it also acts as a physical record of conversations that are related to work or anything. Hence, people demand for the best email client for their day-to-day tasks.
When it comes to the Yahoo application, it was well known in its own time. But, after a period, most of the Yahoo users started facing issues and their accounts got hacked by hackers. As a result, the users of Yahoo got afraid, and to save their crucial data, they want to delete their Email ID permanently.
Now, without wasting a minute, let's skip to the instructions to delete it.
Steps to Delete Yahoo Email Account Permanently
To remove your email account permanently from Yahoo Mail, you need to follow the below stated steps carefully-
First of all, go to your Yahoo Mail account and click on the Account Info option
Secondly, from the left panel of the Mail, select the Help option

From the new window, tap the Create or Delete account > Close or Reactivate your Yahoo Account

After this, you need to pick Sign in to the Yahoo account termination page option

Once you sign up with your Yahoo account, it will lead you to a new page. Here, read all the given instructions carefully if you want. As it will provide you with all the information that you will be going to lose after deleting the account permanently. Once, you complete reading these instructions, just hit the Continue deleting my account option

In the final steps, enter your Yahoo email credentials again. Then, tap on the Yes, terminate this account option.
Done!! These were the simple steps that you can perform to delete your Yahoo Email ID permanently. So, implement these steps and get rid of the fear of hackers forever.
What to Do Before Deleting Email ID Permanently from Yahoo Mail?
As with the above section, you got an idea of how to delete Yahoo mail account permanently. But, what about your emails? Aren't they important for you? Will you never feel to access Yahoo emails again? Don't you want to keep the other data of the Yahoo account? As there are not only emails, your Yahoo Mail also includes your important events, your appointment, contacts, and more.
Now, the question arises what to do to keep all the Yahoo account data? In this situation, you need to take a backup of the Yahoo Mail ID. Because this is the most secure way to keep your notable emails and other information. Also, there will be no fear of any hacking and losing your information.
We are sure you would not like to go for any tool available on the internet. Hence, you should go for a professional and trustworthy one. Therefore, we have come up with an automated and professional SYSDaddy Yahoo Mail Backup Wizard. With this program, you can easily take a backup of your entire Yahoo email account before deleting it permanently.
This program provides you option to Export Emails From Yahoo to MSG format. Or if you want to use Yahoo emails in Thunderbird application then you can Export Yahoo Emails to MBOX effortlessly, here, it provides other formats also.
So, just create a backup on your computer and delete Yahoo email ID permanently. Moreover, it has been designed for the Windows and Mac OS, so download it according the Operating System you are using.
For Windows
For Mac
Guide to Copy Yahoo Mail Emails and Other Data
Initially, download the mentioned software on the computer. Then, launch it, and follow the step by step guidelines given below-
Then, login with your Yahoo Email account credentials

Once you login, just select the format in which you want to have your Yahoo emails safe

Now, Browse the destination location to save the Yahoo mail output file, tap on the Delete After Download

Finally, hit the Start button to create a copy of the entire Yahoo mail account on your computer.
Conclusion
If you are planning to delete your Yahoo mail ID permanently then it is a simple process. As you will not require any outsider application to process this deletion procedure. However, from losing any worthy information it is best to have a copy of the Yahoo data. So, here, in this article, we have discussed the steps to delete Yahoo email account permanently. Along with it, we have shared a professional and reliable SYSDaddy Application to create a duplicate of the entire Yahoo Mail account data. So, implement them and get rid of the Yahoo Mail.
How to Delete Yahoo Email Account Permanently – FAQ
Q – Can I reactive my deleted Yahoo Mail account?
Yes, you can easily reactivate your account. All you need to do is login within 30 days after deleting it.
Q – If anyone sends me an email to my Yahoo email account, what will happen with them?
When you delete or deactivate your Yahoo account, and someone sends you a message during that period. He will receive a delivery failure message. Though, this email will never be seen on your account if you ever reactivate it.
Q – Will my Yahoo Mail contacts and email address also be deleted after the process of permanent deletion of Yahoo ID?
Yes, whatever information you have saved in your Yahoo Mail account, everything will be deleted along with the email address.