How to Bulk Archive Yahoo Emails to Computer Manually?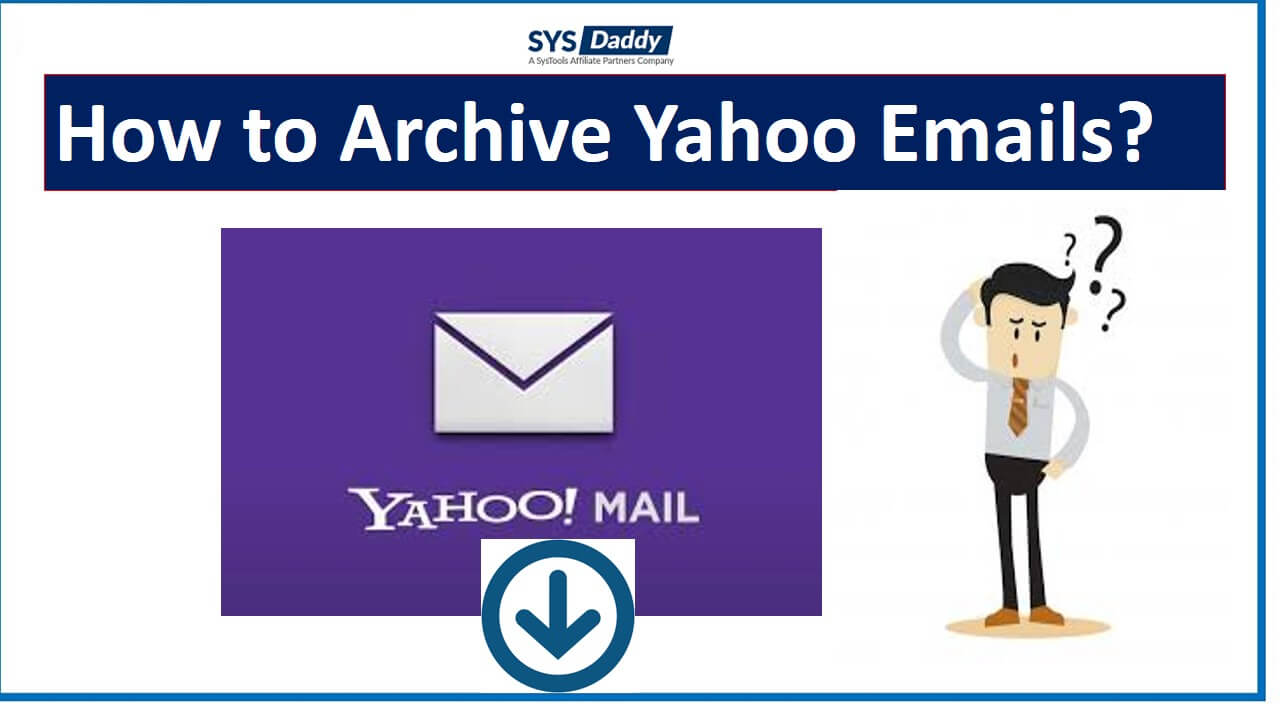 Priya
| Published: 2022-03-30T13:07:18+00:00|
Yahoo Mail
| 5 Minutes Reading
However, archiving the Yahoo Mail emails is the best way to protect yourself from any future uncertainties. It prevents and saves important emails from accidental deletion, hacking, virus attacks, and more. Hence, in this article, today we will be discussing different ways to archive Yahoo emails to computer.
Though the Yahoo mail was a popular email client in its own time. But it's been a lot of time when the users are getting decreasing day by day. As there is a chance of email hacking by the outsiders. So, to keep the data safe, it is better to archive all the emails from Yahoo Mail instantly.
Because when you archive any email from Yahoo Mail to computer, it goes to a separate folder, where it stays until you need them again.
Let's consider a user query to understand the need for archiving Yahoo emails.
Hi, though I am using the other Yahoo Mail client for a long time, but it had been organized always. But, since last month I am getting many irrelevant emails. Which resulted in the cluttered Inbox. So, I am thinking to archive them to computer. But, how do I archive Yahoo Mail emails to my computer? If anyone knows, kindly suggest me the way for doing this.
Just like this user, we are sure, many users among you want to make your Yahoo Mail organized.
Solutions to Archive Bulk Emails From Yahoo Mail
To archive the bulk archive Yahoo emails to computer have two ways to perform –
Now, without any delay, let's focus on both strategies one by one.
Manually Organize the Yahoo Mail to Computer by Archiving
To archive Yahoo emails to computer manually you have to follow the steps mentioned below-
First of all, navigate to the https://mail.yahoo.com/
Now, login with your Yahoo Mail credentials
After login, click the checkbox next to the email that you need to archive. However, select multiple emails to archive from Yahoo Mail to computer
In this step, tap the Archive button to proceed further.
By doing so, the chosen emails will be switched to the Archive folder of Yahoo Mail to computer.
Limitations of the Manual Strategy
Though the above manual approach is a nice to perform to archive Yahoo emails to computer. But, it comes with some drawbacks along with it –
Sometimes, the manual method leads to the data loss or data breach from the Yahoo Mail.
Along with it, many times it will only archive the email from one account, you can't perform the task for multiple accounts.
Also, if you are planning to archive bulk Yahoo emails then, for your information, it will not be possible to do so.
In addition to these, you cannot archive the attachments of the Yahoo emails on your computer with the manual method.
Archive Yahoo Emails to Computer Automatically
However, there are various methods available to archive the emails from Yahoo Mail, but none of them is much feasible. Hence, in this situation, we have brought up an alternative for this. It is an automated solution that works smartly and quickly. Also, taking a backup of your crucial emails from Yahoo Mail is the best thing you can perform. To do so, the simple and quick automated solution is SYSDaddy Yahoo Mail Backup Wizard. With this program, one can archive multiple Yahoo emails on a computer or anywhere effortlessly.
Moreover, there is an option if you want to save Yahoo email as PDF file format. With the help of this software, you can do this process quickly. Along with it, if you are planning to use the Yahoo emails in the email client which is supported by EML format. Then, it is also possible to save emails from Yahoo to EML file.
Along with these, this software comes with advanced technologies so that it is compatible with both Windows and Mac OS.
For Windows
For Mac
Steps to Archive Emails from Yahoo Mail Directly
First of all, download the software and run it on the computer. After this, follow the steps as per mentioned below –
In the first step, just login with your Yahoo Mail credentials and click Login

Now, from the appeared window select the desired format in which you want to archive Yahoo emails

After selecting it, click on the Browse button for the location path and also tap the Delete After Download option

Eventually, mouse-click on the Start button to initiate the archiving Yahoo emails process.
That's it, these were the few simple and quick steps to archive bulk Yahoo Mail emails at once.
Archive Emails from Yahoo Mail to Computer – Conclusion
When it comes to making your account clutter-free. Then, archiving the emails to computer is the best option to do. So, by taking the same query we have discussed the ways to archive Yahoo emails to computer in this article. Here, we have mentioned the manual way and its alternative. Whereas the manual way might be a tricky one. hence, we recommend you to choose the most trusted and one and only SYSDaddy Software as described above. It will make your Yahoo Mail account sorted and organized. However, the final choice is yours which method you want to go for.