Outlook PST File Size Not Reducing After Deleting Emails – It's Resolved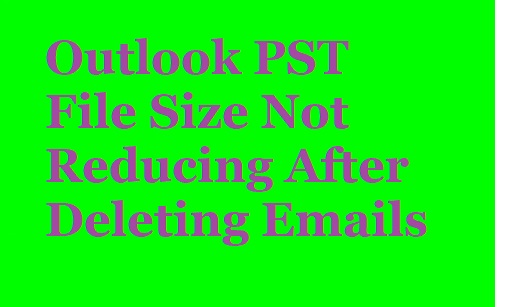 As an Outlook user, you may have noticed that after deleting some emails, the size of the PST file is not reduced. When you delete email components from your mailbox, they are removed from the .PST file, and the space used by the deleted email items is marked as free. Outlook reserves free space for new email items because the size of the .PST file is not reduced. Therefore, you can eliminate the reserved free space by reducing the size of the PST file. So today we will discuss the solutions to solve Outlook PST file size not reducing after deleting emails issue. Read the complete article to know more.
A Proficient Way to Fix 'Outlook PST File Size Not Reducing' Issue
There is no direct manual solution available for reducing the file size of PST. In this situation only "Outlook PST Splitter Tool" can work perfectly. This tool can resolve Outlook .pst file size not reducing after deleting emails query. It comes with multiple enhanced features which makes it better as in comparison of others. It divide PST file by date range, size, folder, sender's email id, and year.
However, this application provides an understandable and explanatory interface. So, any user either novice or technical can easily operate without taking any expertise help. Moreover, you can use this tool on any Windows OS machine. Because, it extensively supports all editions of MS Outlook and Windows OS. Simply click on the download button for installing free demo version of the software.
Instructions to Reduce PST File Size Without Deleting Emails
Step 1. Click on the Add Files or Add Folder to insert PST files.
Step 2. Choose from Split by Size, Date, Year, Folder, Email Id, Category.
Step 3. Select desire file size in MB or GB.
Step 4. Click Next and view the summary of splitting files.
Step 5. The splitting will start automatically.
The splitting process has been completed successfully.
Are You Looking For Free Solution?
There are many users who are still searching for manual solution. Do not worry! Here in this section, we are going to describe detailed steps to resolve Outlook PST file size not reducing after deleting emails query. You just have to follow all the steps given below to implement the procedure.
1. Run the MS Outlook application and click on the File menu bar.
2. Now go to Account Settings and then click on Account Settings option.
3. In the displayed dialog box, click the Add button on the Data Files tab.
4. Add the name and type PST and click OK to generate a new Outlook data file.
5. Here, you must choose File >> Open and Export >> Import / Export.
6. Then choose Export to a file option and press the Next button.
7. Select the folders you need to export. Also, check the Include subfolders option if you want to export subfolders.
8. Now click the Browse button to choose a location to save the exported files. You can also prohibit not exporting duplicate items
9. Subsequently, press the Finish button to continue.
Author Suggestion
Outlook PST file size not reducing after deleting emails is this query too? Here, in this article we described the free and automated solution to reduce Outlook data file. But, using the manual method is not safe for your crucial data. In this situation, it is better to choose above-suggested third-party solution. Moreover, the choice is your but take the decision wisely.