How to Fix Microsoft Outlook OST File Cannot be Opened Error?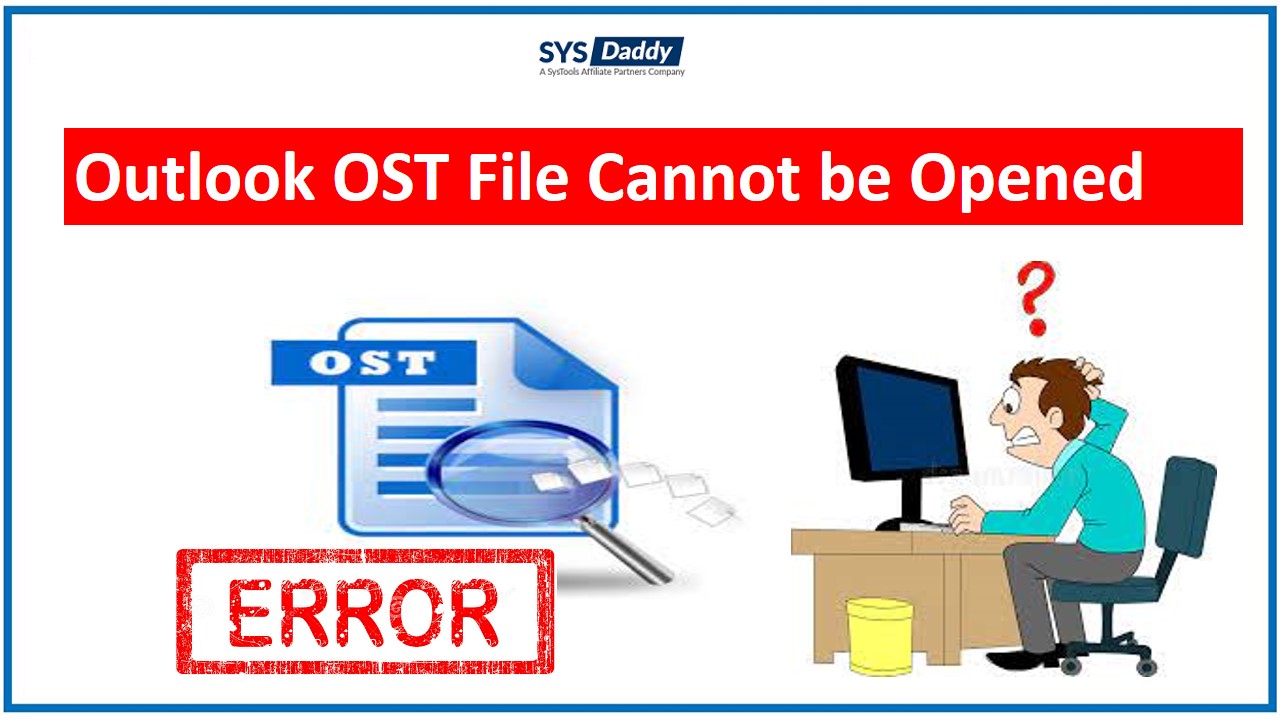 Are you searching for a solution to solve the "Outlook OST file cannot be opened" error? Have you tried to access the OST file but not able to access it? If these are your concern then do not worry. In this article, you will get a perfect solution using which you can easily access your Outlook OST files.
Table of Content:
Brief Overview of Outlook OST File
However, you all may be aware that OST is an offline folder file in MS Outlook. The file makes it possible to work offline and synchronize the work the next time you connect to the internet.
But as there is a saying "everything has a loophole", so does the OST file. Means, sometimes, Outlook OST cannot be accessed. However, there are various reasons for this error. So, first, let's discuss them one by one before going further to the solutions.
Why OST File Cannot Be Accessed?
The main reason could be the improper installation of Outlook.
Moreover, importing OST file in an improper way becomes the reason of not opening.
Likewise, if there is any kind of interruption while sharing OST files and network that becomes the reason when Outlook OST file cannot be opened.
Sometimes, your system can be disturbed because of virus or malware attack.
Additionally, if your Outlook exchange server is deleted and your OST file is orphaned. It leads to the error while accessing the OST file.
Synchronization issue between OST file and Exchange server mailbox is the another reason of this cause.
Manually Fix Outlook OST File Cannot Be Opened
The primary thing you can do to fix the issue by using manual approaches. Here, we will discuss manual solutions in order to make OST file open –
The first thing you can try is by closing all the Processes related to Outlook application on your system.
If the above one didn't help, then you can try to disable the Cached Exchange Mode in Outlook.
Another manual method you can opt by removing all the Add-ins in the MS Outlook application.
If none of them worked then maybe your OST file got corrupted, so you can remove corruption from the OST file.
How to Fix Outlook Offline Data File?
The error of OST cannot be opened is arise often due to corruption of the file. However, you can repair the Offline data files with an utility called scanPST.exe provided by Microsoft. Following are the steps to do so:-
First of all, go to the default location of MS Outlook, search for Inbox Repair Tool/Scanpst.exe
Then, click the Browse button and select the OST file which is inaccessible
After this, hit the Start button to begin the repairing process
Once the process is completed, click 'OK' to finish it.
Causes Behind 'Scanpst.exe is not Responding'
Below are some of the cases when the Inbox Repair Tool fails to repair Outlook data files are:-
The Scanpst.exe stops working because of the large-sized OST Files.
It might not working if there is some severe corruption errors in your OST file.
Also, it stops working because of the network and encrypted OST files.
Because of these limitations, it fails to repair the OST file and you are unable to open the OST files.
Fix OST Cannot Be Opened Error Automatically
In the situation when even scanpst.exe fails to fix the OST file, only one option left. That is taking help of some professional software. Yes, severe types of errors can only be rectified by the suitable program. This software will fix errors and also save OST file as PST format accurately.
One of the reliable program is SYSDaddy Exchange OST Recovery Software that you can trust on. This tool also helps in exporting files into different formats. It provides multiple features to fix emails, calendars, contacts, text files, and more.
Along with these, it has been built in multiple advanced features, so to use it go with its free demo version first.
Steps to Remove Error From OST File
Initially, you need to download and launch the application on your computer. Then, follow the below stated steps when Outlook OST file cannot be opened –
In the first step, to fix the error of OST file click on Add file

Then, choose Quick Scan or Advance Scan as per your requirements

After this, tap on the Export button after preview and select PST format, apply Advance Settings

Now, select the Destination where you want to save the exported healthy file

Finally, hit the Export button to fix Outlook OST file cannot be opened error.
After conversion, you can import PST file into Outlook 2019, 2016, 2013, 2010.
Features of Professional Automated Solution
There are multiple features that you get from this software, but, here, we are sharing a few of them which will help to fix Outlook OST file cannot be opened issue –
This software is capable enough to extract and retrieve all the emails from OST files that have been deleted somehow.
Moreover, it will decrypt OST email file by removing SMIME and OpenPGP encryption completely.
This software, will be helpful when you need to fix multiple OST files together.
Supports for MS Outlook 2019, 2016, 2013, 2010, 2007 and all earlier versions.
Likewise, this utility will provides you option to fix and export only selective emails from the OST file.
Conclusion
In this article, we have given you both the options manual, as well as the automated approach through which you can find your answer to Outlook OST File Cannot be Opened error. But, with the manual approach you will face difficulty if you don't have proper technical knowledge. In addition, it takes a lot of time and is not accurate all the time due to human mistakes. Therefore, we suggest you go with the tool as it is more faster and reliable.