How to Repair Outlook OST File Which Got Highly Corrupted / Orphaned?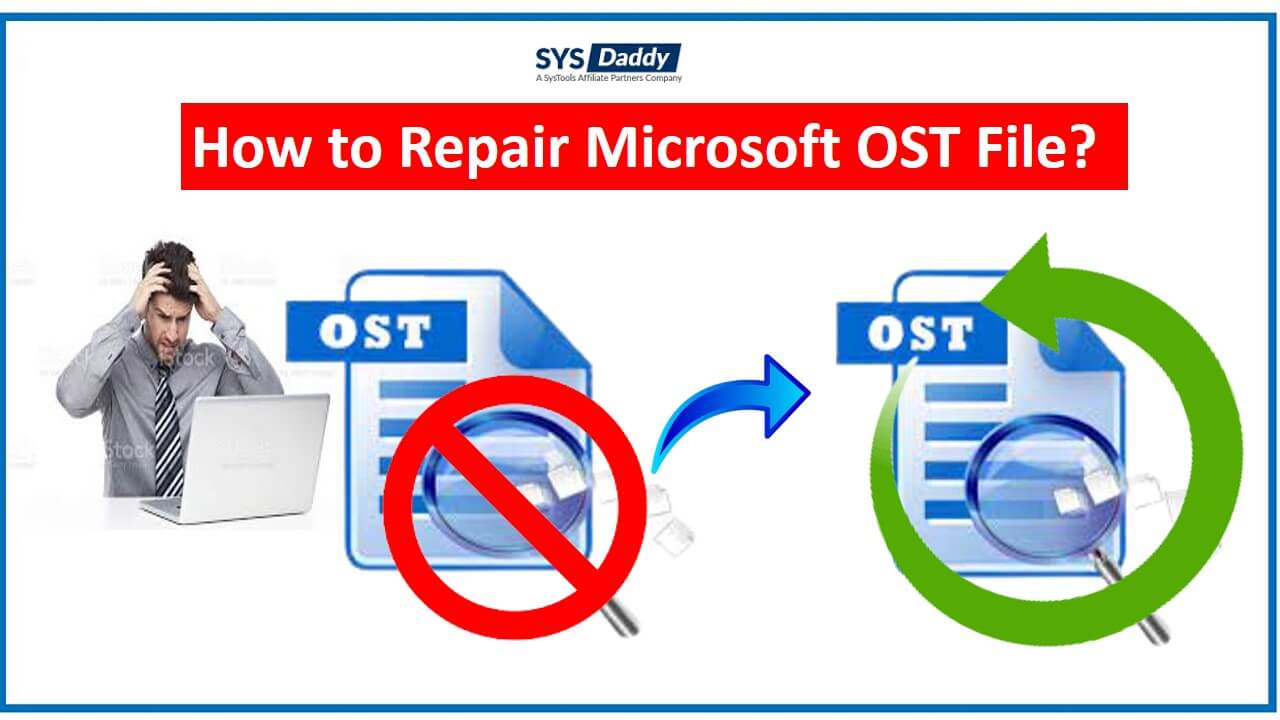 There can be a time when the Outlook OST file gets corrupted, damaged, or orphaned. However, there could be any reason. But to repair OST file at the right time is the best thing that you can do. So, here in this article, we will be discussing all the ways that will be useful to repair Microsoft OST file.
Let's consider some user queries that face corruption in the OST file.
Hi, I am Vishnu. Being a user of MS Outlook for a long time, I never faced any difficulties. But, one day ago, I found out that OST file data is missing. I don't know how it happened. Maybe there is a corruption in the file or maybe it got orphaned. Whatever the reason is, I tried to find out the solution. But got no solution. Anyone, please suggest me manual method to repair Outlook OST file. Thanks.
Hey, I have been having an issue while opening the Outlook application. I asked my friend about the same he said that my OST file got damaged. We tried to fix this error. But we failed, however, we have used the scanpst.exe tool to repair it. But, unfortunately, it didn't help. Now, we are wondering that can we repair MS OST file having major errors. Could anyone please suggest us any professional method to repair damaged OST file.
How Outlook Offline File Gets Corrupted, Damaged, or Orphaned?
Though there could be many reasons which affect the OST file of Outlook 2019, 2016, 2013. Because of them either the file becomes highly damaged or corrupted or can get minor corruptions. Even sometimes, the OST file gets orphaned. Whatever the result is, the reasons are the same for all as discussed below-
This happens when you wind up the application improperly.
Likewise, corruption occurs because of the failure of the Add-ins in the computer.
Moreover, the cause behind the damage OST file can be the presence of the virus on the system. Which distress the data files.
In addition, if there is any space shortage in the system's hardware then it results in the corruption of the file severely.
Also, the OST file can be orphaned if you accidently erase the database or mix designing the working framework.
Different Findings to Repair OST File in Outlook 2016, 2019
By keeping the above reasons in mind, we have come up few findings to repair Outlook OST file. Regardless of the level of corruption or orphaned OST file –
Now, let us understand both the strategies in the coming section one by one in detail. First, let's begin with the manual one to repair MS OST file.
How to Repair Damaged or Corrupted OST file Manually?
You must be worried to repair OST file as soon as possible. And might be thinking that can we repair Microsoft OST file with manual way? Then, for your information, yes you can easily repair corrupt OST file.
To retrieve the data of the Outlook OST file, there is an in-built tool that you can use. This Microsoft tool is known as Scanpst.exe or Inbox Repair Tool. However, this can be used to repair Outlook OST and PST files. Which is by default located in the MS Outlook directory. Though the exact location of this tool may vary according to which Microsoft Outlook version you're using.
So, let's talk about it and learn how to use Scanpst.exe Tool to repair Outlook OST file.
This method is useful but it would be able to repair minor errors of the OST file. Along with it, this tool comes with some drawbacks. So, now the question arises, what if there is major corruption? What if this Microsoft inbuilt tool fails to repair damaged OST file? Or what if it could not repair orphaned OST file? Then, for all these questions read the next section of the article.
Want to Repair OST File? Use Alternative Method
When the In-built tool of the Microsoft Outlook fails, then, here comes a need for a reliable solution that can be used. To fix this, you could rebuild OST file in Outlook. But, if the Outlook OST file has some implicit offline data items that aren't with the server, then recreating the file will not be the exact solution. So, in this circumstance, you will need to extract the OST data to importable PST format.
Hence, for the same, we have emerged with SYSDaddy Microsoft OST Recovery Tool. This alternative method to repair corrupted OST file is the best solution you will ever get.
Moreover, this software has been designed in such an easy manner so that even a beginner can use it. Apart from the interface, it supports Outlook 2019, 2016, 2013, and all earlier versions. So, whatever version of the Outlook you are using this tool is good to go with all. Therefore, just get this tool to repair Microsoft OST file which is orphaned with no sweat.
For your information, this program comes with a free demo version. So, download this Outlook Repair Tool from below and get back the data of the OST file.
Guidelines to Get Back Outlook OST Data
To use this tool, first, download the software on your computer. After that, implement all the steps that are mentioned below –
Primarily, click on the Add File option to repair OST file

Secondly, you can Preview the entire data of the Outlook OST file

Following the above step, select the PST file or any other settings as per your desire

Ultimately, hit the Export button to repair corrupt OST file easily.
So, with these simpleminded steps, you will be able to repair the entire data of the Outlook orphaned OST file in just four steps.
How to Repair Damaged / Orphaned OST File? Wrap Up
Sometimes, the OST file of Microsoft Outlook can face errors. Which eventually results to file corruption or damage. Many times, the file becomes orphaned. Therefore, you can repair OST file with the above manual and automated strategies. However, as mentioned above if the data is not on the server then you will not be able to repair it. Hence, it is recommended to use the SYSDaddy Utility to get rid of it. Which works efficiently for all Outlook 2013, 2016, 2019, and earlier versions.