How to Migrate Lotus Notes Mail to Office 365 in Bulk?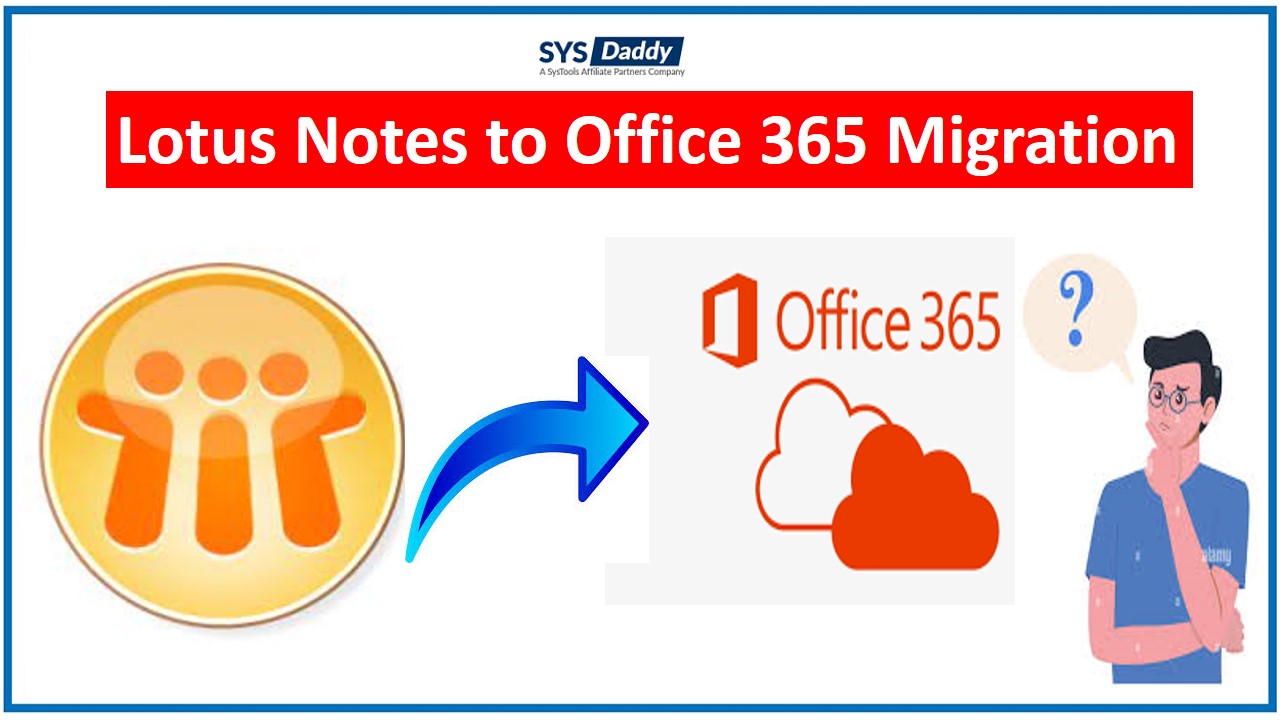 The task of Lotus Notes to Office 365 migration is not an easy process. Even, it's not everyone's cup of tea. However, you can perform this migration task in only two situations – either you're a technical expertise to do the job successfully. Or your company can hire an expert on a per day basis to perform the migration of Lotus Notes emails to O365 in bulk.
On the other hand, uploading local data to cloud storage requires a lot of strategy and suitable methods for successful result. This is because when a person tries to migrate in a substantial way, he may face long downtime problem in his organization. Eventually, this can become a reason for affecting the company and hence, can also hinder the ongoing work in the business.
Before moving further, let us first have a look on topics that we are going to illustrate in this blog and they are –
Lotus Notes to Office 365 Migration Challenges
There are some points that you need to consider while migrating Lotus Notes address book, emails, tasks, and other items to Office 365:
NSF File Mail Considerations – Of course it is essential to achieve a proper migration without hampering data integrity. Emails have become one of the most important and preferred communication. It means, there are a huge percentage of end users out there. If there is a 5-minute downtime, then it will result in a huge loss in the company's workflows. Eventually, it will lead to the production problems. Usually, you face this issue because of the server availability. As the server can't be available at all places for companies to deal with. Therefore, organizations are now migrating batch NSF mail data to Office 365 to bring flexibility in existing working culture.
IBM Address Books and Calendars – A successful Lotus Notes to Office 365 migration of address book information and appointment essentially demands proper integrity. Hence, the data integrity is an important aspect here. Because if any business customer contacts details are intercepted, you can imagine what all the consequences could be.
Data Security Fear During Migration – Some of you may be afraid of storing your data to the cloud. Also, there are chances that your data can get leaked, if you don't follow the security measures properly. Once data get successfully stored on the Microsoft cloud, you will experience a relief from this fear for a while.
Unify the Email Management System – Batch Lotus Notes Mail to Microsoft 365 migration demands administrators to provide all their old email platforms. It recommends organizations to educate their employees with proper use of Microsoft Online platform. 
Issues While Performing NSF to O365 Migration
Most of the common issues to migrate Lotus Notes mail to Office 365 account we are listing below :
Picking Up One Suitable Migration App – For Lotus Notes to Office 365 migration, it is essential to have a rapid and best solution. Absence of technical knowledge might result in wrong selection of application. Hence, you will face difficulties while performing the procedure. You cannot trust blindly on any product just on the basis of offers provided by the application. So, be conscious while picking up one suitable product to migrate data from IBM Notes to Microsoft Office 365.
Unexpected Stoppage During Migration – Also, in some conditions you may find that after IBM Notes to Office 365 migration, few amount of data is still left for migration. You may face this error due to the absence of fast internet speed. As a result, there is a high probability of system hang. Eventually, you will need to again attempt the procedure from starting. So, after completion, just make sure that you have uploaded the data successfully on Microsoft cloud.
Chances of Virus Threat Occurrence – Many software are present in today's digital market through which virus can enter in anyone's PC. Usually, end users have this fear of virus occurrence on their machines because they have to download and test different trial versions of the product to pickup the best one. Therefore, the known and experts suggested solutions should be tested to be safe from occurrence of virus due to software downloading.
Migrate Lotus Notes to Office 365 Automatically
There are manual approaches available for uploading Lotus Notes mail emails to Microsoft 365 tenant using MONTI. However, they do not guarantee successful migration. Moreover, there will be no assurance of data integrity and additionally demands an expert perform it.
Hence, we recommend you to avail the efficient SYSDaddy Lotus Notes to Office 365 Migration Tool. This will help you to get rid of the challenges and issues while migrating batch Lotus Notes Mail to Office 365. This virus-free software is available in free demo and a full version. To avail the benefit you can go for the demo version to check the different features of the software.
Similarly,  it provides you various advanced options like selective data items migration. Along with the date filter option to migrate desired data by date-wise. Here,  you will get countless features like re-run migration, delta migration etc. Additionally,  while Lotus Notes to Office 365 migration, you can stop the task at any time using Stop Migration option. So, choose this perfect utility with best set of features. Not just this, but you can operate this tool easily with its intuitive interface.
Guideline for Lotus Notes to Office 365 Migration
So, first of all, download the software on the Windows desktop. After that, launch the application and follow the below steps –
In the first step, choose the Destination, apply Date Filters, and other settings
Then, just provide the admin credentials of your Lotus Notes and Office 365 account
Now, validate the both the accounts in this steps to start migration
Finally, hit the Start Migration to begin the NST to O365 migration process.
Winding Thoughts
After reading this blog, you know the different issues and challenges while Lotus Notes to Office 365 migration. Moreover, we  have mentioned a proven yet safe software to experience a trouble-free data migration. So, using it you can perform the task without any technical glitches. We recommend you to go for this tool because of its amazing integrated features. Moreover, you be able to do the migration with proper full security.