How to Convert PST Files to NSF Files for Free Using Expert Approach?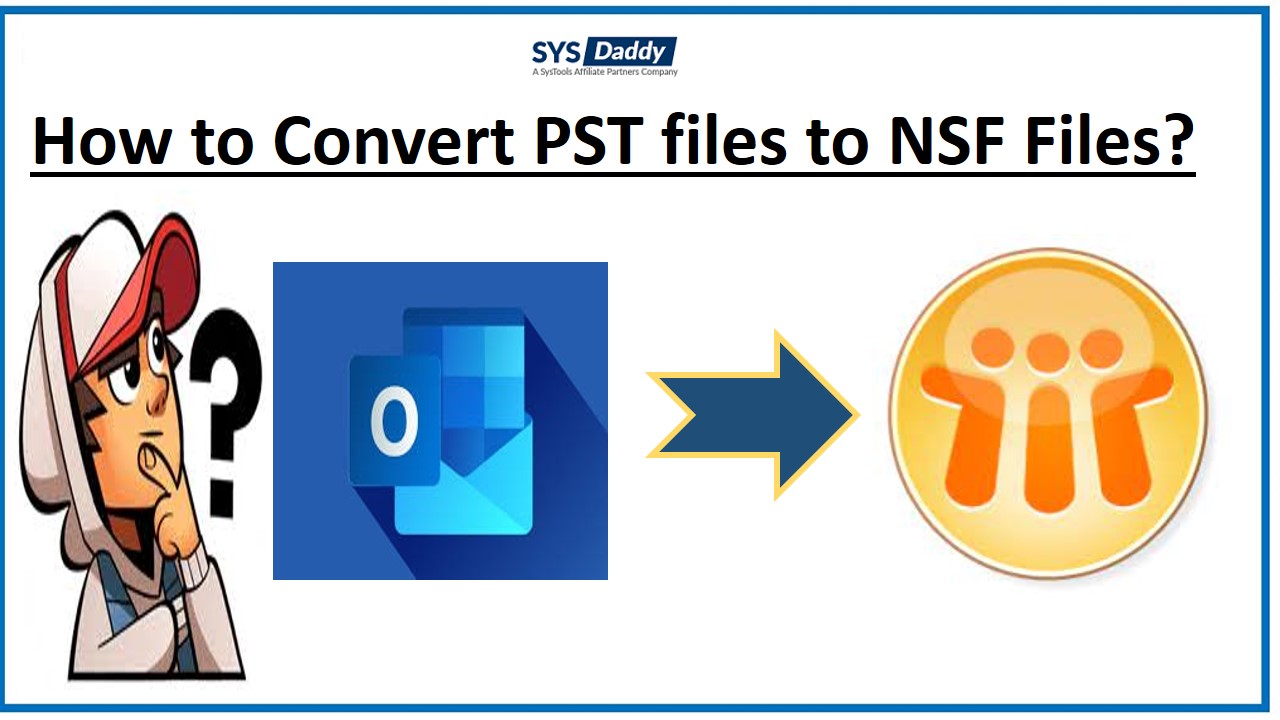 Are you hunting for a feasible solution to know the answer for "How to convert PST files to NSF files for free?" Unfortunately, not able to reach some reliable techniques for the same? If your mind is hovering with all these queries, then check out this blog where we have elaborated cost-effective and proven approach which will easily help you to migrate PST to NSF file format in a hassle-free way.
Topics to be Discussed:
Users Queries in Terms of Converting PST Files to NSF Format
Let's understand the scenario with the help of some practical users queries.
"Recently, I have become a part of a new project wherein Lotus Notes is used as a primary email application. Been an Outlook user, now, I need to migrate Outlook emails to Lotus Notes that will help me to work at ease under one platform. However, I had gone through several websites in search of knowing the process of PST to NSF conversion, but all went in vain. So, is there anyone aware of the solution, if yes, then please help me know how to convert PST files to NSF files for free?"
"Due to some reasons, our organization has decided to migrate to Lotus Notes from Microsoft Outlook. There are around 192 to 196 employees who have been used Outlook as their email client. How to convert PST files to NSF files for free in the absence of manual method? As there are multiple PST files to be converted to NSF format, kindly help us with some genuine and trustworthy tool to convert PST to NSF without hampering our daily work tasks."
Just like the aforementioned queries, there are innumerable Outlook users who eagerly want to know the answer for their query i.e., "How to convert PST files to NSF files for free?" Moreover, both Lotus Notes and Outlook email clients have been used extensively by both small-scale and large-scale organizations. However, with the unbeatable advanced security features offered by Lotus Notes makes it more significant among other email applications.
Now, let's understand the reasons behind this migration before discussing the solutions for the same.
Major Reasons for Outlook to Lotus Notes Email Migration
First reasons is, the Lotus Notes renders a centralized Domino server in which your entire data are stored centrally. As a result, you can quickly access the data irrespective of the location provided if sufficient internet supply is available.
Moreover, it facilitates data replication which allows you to access the database when being offline with the client. When the connection establishes between client and server, all the changes done will be synchronized automatically with the server.
In addition to this, if you are a Notes user, then you can smartly manage the document which is been saved centrally using doc link feature.
Not only this, but all the data stored in the Domino server are highly secured. To be more precise, even if a system crash occurs which may end to data loss. Despite this, you can easily access the data from another computer system.
Also, there is an option to share information with the co-workers to swiftly manage the work collaboratively. For instance, if there is a query from the client, in the absence of the individual whom the client is addressing, other co-workers can handle the tasks.
How to Convert PST files to NSF files for free? An Expert Solution!
Due to the absence of the manual method, you may get panic in search of a reliable solution to know how to convert PST files to NSF files for free. Hence, it becomes a challenging task to find the appropriate tool to migrate PST to NSF file. As a result, here we have introduced a trustworthy automated tool i.e., SYSDaddy Outlook to Notes Converter Tool.
With the demo version, you can effortlessly convert the entire PST mailbox item to NSF format. Simply download the software and get your bulk PST files converted to NSF format in no time.
Guide to Migrate PST to NSF Files
Download the software on your desktop, and follow the steps given below to know how to use this software in easy manner-
First of all, click on the Add file and Add Folder option to add PST file

Then, select the category and apply the Date filter to migrate selected data

Now, click on the Browse button to save the output file

Finally, mouse-click on the Export button to initiate convert PST files to NSF files process.
It's done. Simple isn't it? This is the quickest method that you can use to convert PST files to NSF files for free. Now, let's give a look on the key features of the software.
Here Are Some Highlighted Features of the Utility
With the help of this tool, you can export complete PST data items like emails, contacts, calendar, etc. to convert PST files to NSF files for free.
In addition to this, you will be able to easily convert corrupt & password protected PST files to Lotus Notes.
With "Date-filter" option, you can efficiently export selective data from each Outlook mailbox item to IBM Notes application.
Moreover, this tool is capable enough to convert multiple PST files using Add File (s) and Add Folder option
Furthermore, this application renders such an amazing option. Using it you can create separate NSF file for contacts, maintain folder hierarchy, option to exclude deleted items folder is incorporated in the tool.
Not only this, but using "Select Categories", you can easily migrate PST to NSF with selective PST data items.
Also, you will not required to install MS Outlook to implement PST to NSF conversion process. Because this is the independent software.
Likewise, this application is compatible to get installed on IBM Notes 10.0, 9.0, 8.5 & all the previous versions.
Time to Wind Up
Many times, when you want to know the answer for "How to convert PST files to NSF files for free." As there is no manual solution to migrate PST to NSF file. The only option is left for you to go for some reliable and genuine tool like SYSDaddy Software as described in this post comprehensively. With this, you can efficiently convert entire PST data items. Such as emails, contacts, calendar, tasks, notes, journals to the destination IBM Notes profile.