How to Migrate Lotus Notes NSF to Exchange Server 2019, 2016, 2013 Effortlessly?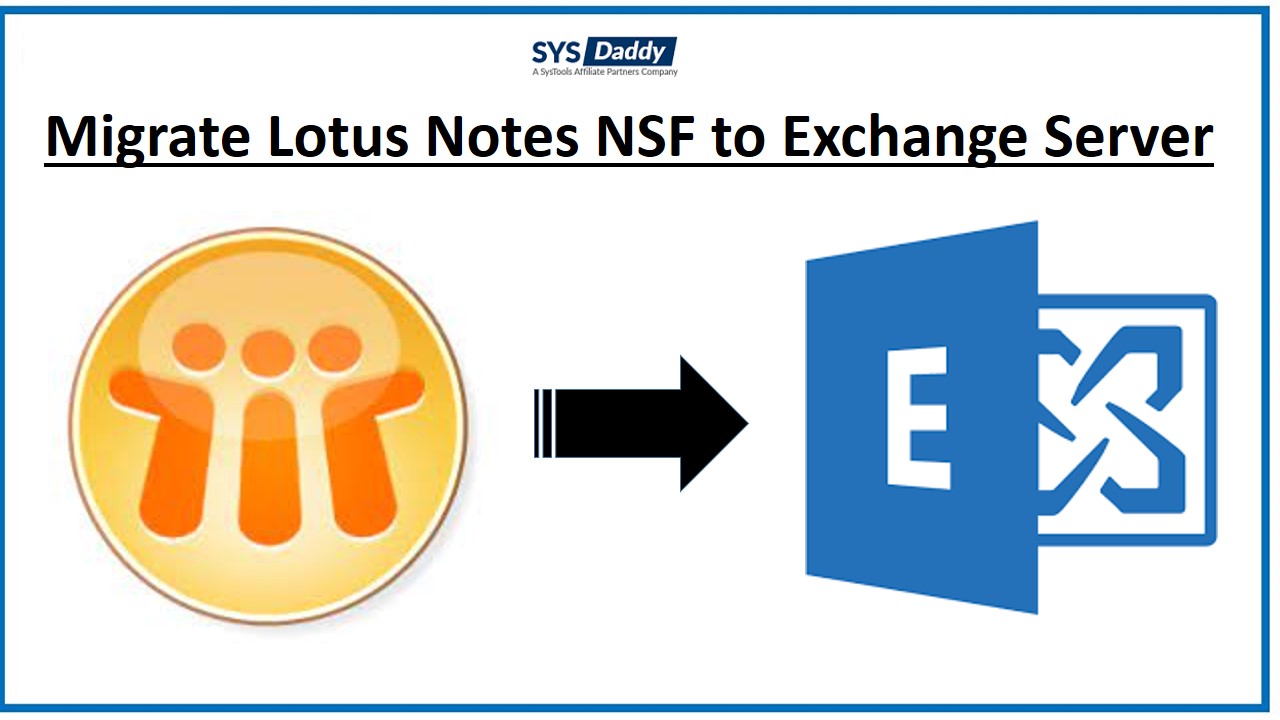 Are you searching for an apt solution to know how to migrate Lotus Notes NSF to Exchange Server? Then, without any further delay, go through this complete blog and get the proven answer for this troublesome query. Moreover, this blog illustrates the result-driven methods to transfer NSF files to Exchange Server 2019, 2016, 2013, 2010, etc. in a seamless way.
Although IBM Notes is one of the well-known email application to perform business operations like emailing, manage tasks, and many more. It saves all your data in a file named as NSF, which stands for Notes storage facility. However, with the advancement in other technology, Lotus Notes is losing its popularity day-by-day and this popularity is getting shifted to advanced Microsoft Exchange editions.
There are several enterprise among you all in the marketplace who are migrating from their default email platform i.e., Lotus Notes to other emailing servers like Exchange Server. Following are some points that describe the difference between Notes and Exchange. It will help you all in addressing strong reasons to execute Lotus Notes to Exchange migration:
App Performance – Microsoft Exchange platform comprises of numerous advanced and easy-to-use features for email management. However, IBM Notes consists of limited features in comparison to the latest edition of Microsoft Exchange server.
Financial Aspect – Expenses of IBM Notes installation and execution are quite higher in comparison to the Exchange server.
Risks on Migrate Lotus Notes NSF to Exchange Server
Here, we are listing few challenges that are common and faced by many of you while migrating NSF file to the Exchange server:
Enterprises may not go through with an accurate migration checklist or resources that need to be implemented during the migration process. The substantial amount of investment, product, human effort and risk involved can only be ascertained by experts or authoritative advisors. Additionally, a firm's data transferring assumptions may turn out to be completely wrong and the situation may turn unexpectedly bad at that point.
Also, during the initial phase of NSF to exchange migration, the efficiency of the company may deteriorate slightly as one needs to invest substantial amounts. This is because when you migrate data from IBM Notes you have to spend more time understanding MS Exchange features.
In addition to this, you must have the technical knowledge to migrate NSF to Exchange server without relying on any third-party application. It demands both monitory as well as time in a large amount.
Moreover, moving towards a new different environment may bring in various questions and doubts which need to be cleared from time to time. Therefore, the company has to give continuous guidance to its employees to resolve these doubts immediately.
Now, here comes the challenging question, which is the best solution to migrate Lotus Notes NSF files to Exchange Server?
But, you don't need to worry as we have got you covered. So, to ease your problem we will be going to introduce the most dynamic and the best solution in the upcoming section. Let's move further.
What to Pick – Manual or Automated Approach?
In order to answer the mind-scratching query "how to migrate Lotus Notes NSF to Exchange Server." You can avail the inbuilt utility i.e., Microsoft Transport suite offered by Microsoft to manually export NSF mailboxes to Exchange. However, most of you out there gave the review that this application consumes a lot of time.
One of the major challenge with this utility is that it requires high level of technical skills to move Lotus Notes files to Exchange Server. So, if you are not technically aware, you may not perform this migration process successfully.
Also, it could be utilized with older editions of Exchange only.
Therefore, all these statements simply denote that there are many limitations and complexities in the manual approach. Hence, in order to save your time, money, and efforts. We would recommend you to opt for an automated solution for a seamless Lotus Domino to Exchange migration.
Migrate Lotus Notes NSF to Exchange Server – Using Automated Solution
In order to overcome the different shortcomings associated to the manual approach. You must use the SYSDaddy Lotus Notes to Exchange Migration Tool. It is designed to migrate Lotus Domino files to Exchange Server 2019, 2016, 2013, 2010, etc., without any technical glitches.
It is embedded with advanced and result-oriented features that lets you safely migrate Lotus Notes NSF files to Exchange Server. The software ensures you to export complete NSF data items. Such as emails, contacts, calendars, tasks, etc. to the destination Exchange Online account. Also, by using the date filter option, you can migrate the desired data by date. Moreover, the software offers you a wide-range of result-driven features. Here, you get an easy-user friendly interface while keeping you all in mind.
You can download this software from below and use its demo version to help yourself.
Steps to Migrate Lotus Domino Files to Exchange
Before anything else, download the wizard on your system. Then, follow the step by step guide to know the working of the tool.
In the first step, select the NSF file that you need to migrate
Then, choose the export file option in which you need to transfer Lotus Notes
Now, apply the advance setting to the file
Finally, hit the Export button to initiate the transfer NSF files to Exchange server.
That's it. This was the complete procedure that you need to do.
Conclusion
No doubt, it becomes a challenging task to migrate data from one email application to another. In the case of Lotus Notes to Exchange Server migration, similar instance occurs. Therefore, the answer to how to migrate Lotus Notes NSF to Exchange Server is being described thoroughly.
The manual and the automated solution as SYSDaddy application have been described in precise manner. The automated tool work wonders providing out of the box features. It is the best alternative over the tedious manual approach that can help you out.