Quick Methods to Convert Lotus Notes NSF File to PDF Document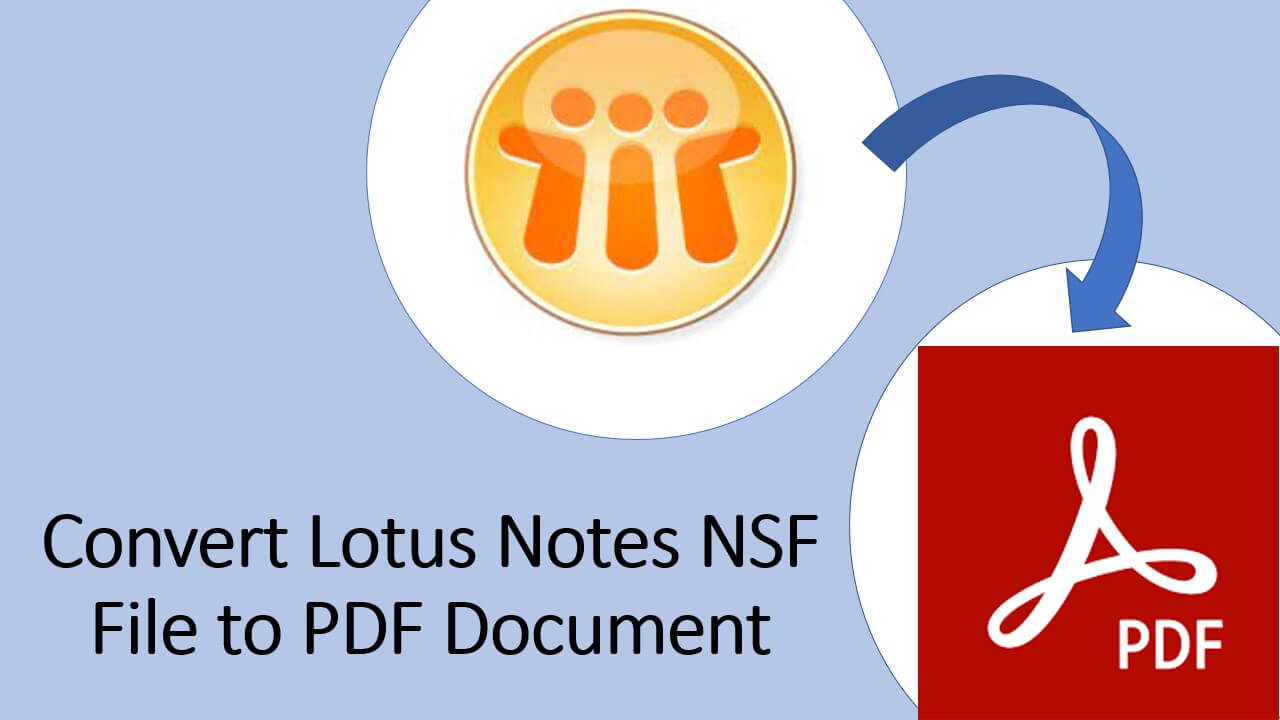 Are you the one seeking for a free manual approach to convert Lotus Notes NSF file to PDF document? Do you really have a need to print Lotus Notes emails to PDF format? If yes, you have landed at the absolute correct place. Today in this official post of SYSDaddy, we are going to cover different approaches for NSF file to PDF conversion.
In today's date, most large organizations only prefer the use of Lotus Notes email client. It is so because it is quite expensive to maintain, and demands expert knowledge to use it. In general, the major problem arises when somebody has to share an important email with another individual and this particular individual does not have Lotus Notes installed on his or her machine.
In such a situation, enterprise officials prefer Lotus Notes to PDF conversion so as to make important messages portable and easy to use on any digital platform.
But, before going further to the solution of the Lotus Notes NSF file to PDF document, let us discuss the cause behind this conversion to make it more clear.
Causes to Export Lotus Notes NSF File to PDF
The core reason due to which business employees convert NSF files to PDF is that it comprises of several advanced features within it and is accessible on any platform.
In fact, nowadays companies and Government employees use PDF files either to show digital evidence or for some other purpose. Following are some more possible causes due to which many of you perform Lotus Notes to PDF conversion:
Most of you desire to save important NSF emails locally on PC.
When you want to secure important NSF file by enforcing PDF password lock.
Sometimes, you need to take core NSF emails accessible on several platforms.
Another reason could be when you changing the job from one company to another.
Read More
Solutions to Convert NSF File to PDF Document
There are basically two top ways to convert Lotus Notes to PDF document-
Manual Method to Convert Lotus Notes NSF File to PDF Document
You can convert NSF file to PDF file format by using Adobe acrobat application. Follow the following steps to know the working –
Install Adobe Acrobat application on your PC and once the installation gets finished, proceed with next step
A feature named as PDFMarker is present in Acrobat, which is used only to export NSF emails to PDF
Launch source Lotus Notes app and choose the NSF messages that you wish to print in PDF format
Click on Action tab and then, select 'Convert Selected messages to Adobe PDF'
This opens a window in which you have to mention the system location where resultant Adobe documents are to be saved
Click on Save button to continue with NSF files to PDF conversion
Once the entire conversion procedure gets finished, it will automatically open the document. In a chronological sequence, you can preview all the converted messages.
Does The Solution Converts Attachments Too?
Well, that's really a serious question! There might be a situation where users have emails with attachments to be converted from Lotus Notes to PDF. It is completely impossible to achieve conversion with attachments by the successful execution of the manual solution. Also, the following are some drawbacks of the approach-
If you want to use this tool, remember it will not convert NSF documents along with attachments in Adobe PDF.
You can not convert bulk documents, as the bulk conversion is not supported in the described approach.
To get the successful resultant, you must be technical expert.
In addition, lots of time and efforts you will be needed to convert Lotus Notes NSF file to PDF document.
It seems as though you are now empty and wondering – what to do then? Just calm down, don't panic, we still have a better solution.
Professional Approach to Export Lotus Notes to PDF
There is a way which is one of the best and hassle-free approaches to convert Lotus Notes NSF file to PDF document. It is called as SYSDaddy best NSF file converter wizard. It overcomes all the drawbacks of manual solutions and enables you to experience a simple conversion procedure.
There is a free demo version available of this software, download the tool from the buttons given below to know the working of the tool-
Special Features of the Software
The software supports NSF files in the batch that means bulk conversion is easily supported in it. Some of the worthy features offered in this application are listed below :
Through this tool, you will be able to convert Lotus Notes NSF file to PDF that too with attachments.
This application supports batch file conversion without any hitch.
On top of that, it will render preview of emails before conversion of files.
Moreover, it is embedded with no file size limitation within it
Steps to Convert Lotus Notes NSF File to PDF Document
First and foremost, download the application and run the application on your computer. Follow the below-mentioned steps to export NSF file to PDF in a simple manner-
Secondly, click on Add File or Add Folder from the right panel of the appeared window
After that, select the PDF file format and tap on the Next button to proceed further
Following this, apply Advanced Settings and select the Destination Path
Lastly, click on the Export button to start the conversion process of the Lotus Notes NSF file.
Last Words
Things are easy to carry if an automated approach is available at a reasonable rate in the market.
Why waste time in manual method when a quick solution is coded by developers to convert Lotus Notes NSF file to PDF document? Enterprises can opt for SYSDaddy Software to export NSF files to PDF file with attachments. There will be no data loss during the conversion with this application and furthermore, you can trust it in aspects of data integrity as well.
FAQ
Q- Will I be able to preview all the emails in one go in this application?
Certainly yes, you can preview all the emails of your folder along with attachments.
Q- I want to convert my Lotus Notes data but is there any security while using this utility?
Yes, of course, your data is very crucial that's why this tool provides the full security of your data.
Q- I do not want to convert my entire data from the Lotus Notes NSF file, is there any option to do so in this tool?
Yes, there is a date filter option by using it you can filter and convert any data from any date without any hassle.