How to Export Lotus Notes Contacts to CSV? Top Two Ways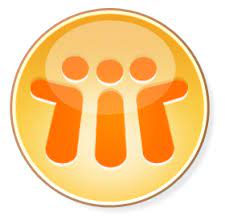 "I am a senior software engineer in an esteemed organization. Currently, my company is asking me to use the HCL Notes for my daily work. Since I am in this firm for many years, therefore, I have piled up a lot of contacts in my IBM Notes program. Now, I want to export lotus notes contacts to CSV format and then import these address book to Google spreadsheet. This requires me to convert these contacts to CSV file format. Is there any way to export it, please recommend a simple method?"
CSV stands for Comma Separated Values and is a file format found in spreadsheets and databases. The most common spreadsheet applications are Google and Outlook. Therefore, when users want to export their data to either Outlook or Google, it is imperative to first export Lotus Notes contacts to CSV file format.
Also Read: Lotus Notes NSF to Office 365 Migration
Top Ways to Export Lotus Notes Contacts to CSV
There are two ways to do it-
How can you Export Lotus Notes Address Book to Excel?
Go through both the methods given below in detail, their pros and cons, and decide the best way for yourself.
1. Proficient Tool to Convert Lotus Notes Contacts to CSV
We are aware that the file format in which Lotus Notes saves its data is .nsf files. However, when it comes to contacts, it is saved in names.nsf. It is a file format that is highly secure and cannot be viewed by everybody at will. To do this, you can employ the NSF Converter Tool for quick conversion. It supports to Convert NSF File to PST, CSV, and other file formats.
It is an advanced tool that can export not only your contacts to CSV file format but also your calendars and emails simultaneously. Infact, you can even convert multiple names.nsf files to CSV at once.
In addition to, you can convert your .nsf data to CSV directly from the HCL Domino server. It is a prerequisite to have Lotus Notes installed and configured on your system. There will be no file size limitations on the .nsf contacts that you want to convert to CSV. Using the date-filter option allows you to export only the selected data to CSV.
This tool that you will be using is compatible with Windows 10, 8.1, 8, and 10 and all the older versions. Infact, this tool is also compatible with all versions of Lotus Notes.
How to Use the Automated Tool?
Download and Install the Software on your system. Follow the steps given below to know how to use the tool –
Step 1. Firstly, select the Add File(s) or Add Folder option to add the NSF files.
Step 2. If you want to add the .nsf files directly from your Domino Mailbox, then you can do so by entering your Domino credentials and then click the Next button.
Step 3. Now, select the Export file format– CSV, in which your contacts will be stored. Then, select Categories and apply Date Filters.
Step 4. At last, apply Advance settings and Browse the location where you want to save the exported file and finally, click on the Export button to start the process.
Method 2 – Manual Method to Export Lotus Notes Contacts to CSV
Follow the steps outlined below to convert Lotus Notes contacts to CSV:
1. First, Click on Contacts in the IBM Notes software where you want your contacts stored as CSV.
2. In a new tab of the application, a Lotus Notes Address book appears. In this tab, you can view all your contacts, along with their linked information.
3. Click on the More option and then choose the Export Contacts from the given options.

4. Now, you can see the Export Contacts page on your screen. From here, you can decide whether you want to export contacts in your address book or just a part of them.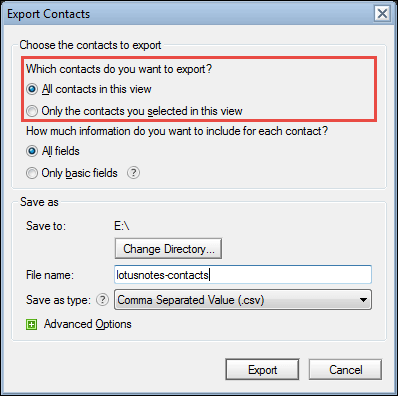 5. There are two options under 'How much information do you wish to include For each contact?', here, choose 'All Fields' or 'Only Basic Fields' according to your preferences.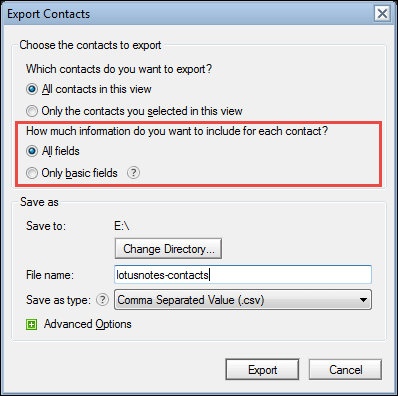 6. Under the 'Save As' section, decide the location and name of the file you want.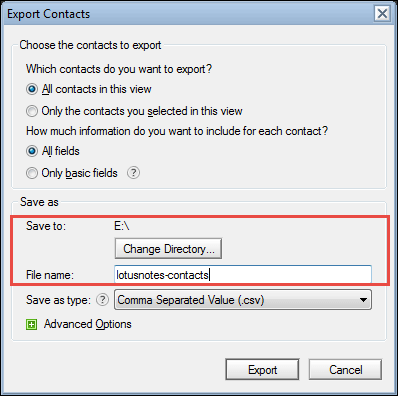 7. Now, under the 'Save as type' select Comma Separated Value (.csv) from the drop-down menu and hit the Export button.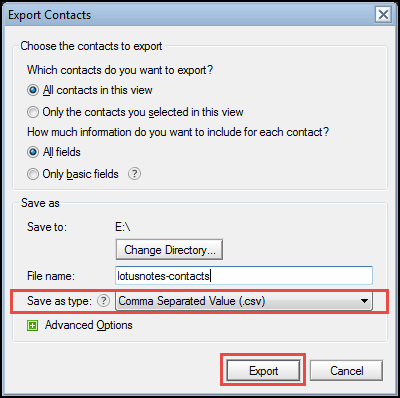 8. Finally, you can view your Lotus Notes contacts in CSV format.
Should you use the Manual Method?
You can use the manual methods but there are a few problems with the manual method –
1. When you want to convert all your contacts from one email ID, it can easily be done with the manual method, but what if you have 20-30 email IDs? Will you be able to convert all the contacts simultaneously, one by one? Definitely not. This is why the automated tool is recommended.
2. Whatever changes and formatting you have done earlier in the contact files. The manual method will remove all the changes and formatting.
3. You won't be able to export logos or other symbols when using the manual method.
Final Verdict
Contacts, whether they are of any email client hold a lot of importance. Since .nsf files don't allow the users to view their files, it is important to convert them to gain access. Nowadays.., the most important webmail application or email client is Google Workspace and Outlook, no doubt on that. This is the reason why users want to export their Lotus Notes to CSV as it is used in Google spreadsheets and Excel of Outlook. The two ways in which it can be done have been explained in this blog extensively but as a result, only the automated solution is recommended. Hence, by using the Automated Software you will be able to export Lotus Notes contacts to CSV.