How to Import Outlook Calendar to Android Phone? – Top 2 Methods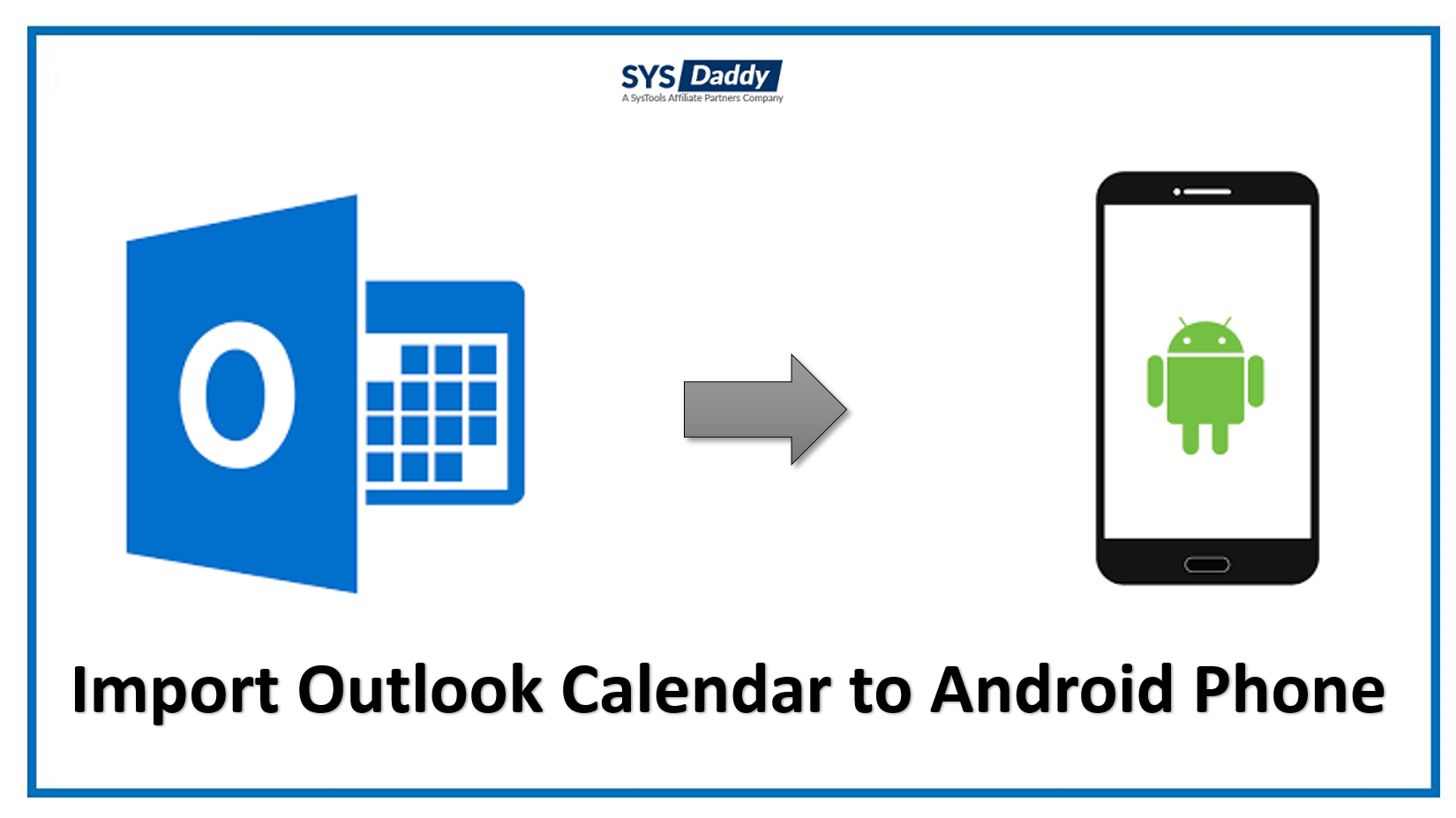 "For the last few days, I am unable to open my Outlook. Now, I urgently need to access Outlook calendar to check my upcoming appointments. The problem is, I do not have any backup of Outlook data. Is this possible to transfer them into Android Phone? If yes, kindly tell me how to import Outlook Calendar to Android Phone. FYI, I use Samsung Note 10."
"I am going to a remote area for office work where I will not have my office computer with me. There, I have to access my Outlook calendar. The place I will be visiting has a poor internet connection. Hence I need to import Outlook calendar to Android phone to access the calendar data offline. Please tell me how this can be possible in easy steps. Thanks."
Outlook offers a schedule management facility besides email and contacts. A lot of users, especially business and enterprise clients make use of the Calendar to schedule appointments and meetings. Since Outlook is a desktop-based email client, its calendar data is not accessible from any other computer. Sometimes, this creates a problem for the users who want to access the calendar on any other device.
To fix this problem, this blog will discuss how to import calendar from Outlook to Android Phone. Using them, you can easily transfer the calendar from Outlook into any Android phone of any brand. Read on to learn the stepwise guides one by one.
How to Import Outlook Calendar to Android Phone Manually
The most common method for calendar transfer is a manual method which can be done without any third-party software. This process is divided into three parts. Let us learn the method with all the steps:
Section 1: Export Calendar from MS Outlook
Launch MS Outlook on Windows system.
In Outlook, open the calendar that has to be transferred.
Click on File tab from the Outlook blue ribbon and then select Save Calendar option.
Enter file name and check the summary shown. If you are happy with it, click on OK -> Save button to import Outlook calendar to Android phone.
Note: If you are not happy with the summary and want to make some changes, you can click on More Options button to select required data range for calendar data import.
Step 2: Send the ICS File to Gmail
Open Outlook and start to compose a new email.
Attach the ICS file in the email and wait till it is uploaded.
In the "To" field, enter your Gmail id that you use for android phone.
Add a subject and send the email.
Section 3: Import Outlook Calendar to Android Phone
Open the Gmail account on your phone.
Open the email that contains the calendar file and download the ICS file.
When prompted, you can save the ICS file in Google Calendar for automatically sync the Outlook Calendar with your Google Calendar.
Limitations of Manual Method
The manual method will not cost you any money, but it does have some downsides that you have to know before proceeding to perform this method:
This one is a lengthy process and requires the constant attention of the user. In the current world, not many people have this much time to spend on calendar import.
This method to import Outlook calendar to Android phone requires MS Outlook installation and it should be in a healthy state. This method is not suitable for orphan PST files.
For a calendar with a large amount of data, this method will take more time and some data may go missing in the destination.
Is There Any Alternate Solution to Transfer Calendar from Outlook to Android?
The list of drawbacks of Outlook calendar using the manual technique is a long one. We are sure that you do not want to bear with all these while transferring your calendar from Outlook to Android phone. Therefore, we recommend you download PST File Converter Wizard for Windows & Mac OS. This application can import Outlook calendar to Android Phone by converting PST to ICS file format.
For Windows
For Mac
The generated ICS file can be later transferred into any Android phone using the USB cable or email. Then it can be easily opened on Android Calendar App. The best thing about this tool is, you do not need Outlook installation to run it. Even if you have a highly corrupted orphan PST file, this tool will export the calendar data from it and import it into an Android phone.
Steps to Import Outlook Calendar to Android Phone via ICS;
Step 1. Click on Add file button to navigate to the PST file location and select it.
Step 2. After the data is loaded in the software, preview them and click on Export button.
Step 3. Check the calendar folder from the left and select ICS as file type from the right.
Step 4. Choose the file saving location and click on Export button to begin conversion.
After conversion, you need to import the ICS file into your phone.
Steps to Import ICS to Andoid Phone using Google Calendar
Open Google Calendar in your browser.
Now enter the credentials of the Gmail account that was used in your Android phone.
Click the '+' sign in the left pane to add Outlook calendar entries.
Now, select Import from the menu.
Select the ICS file you exported above.
Now, you need to open Google Calendar App on your Android Phone to access Outlook calendar.
Related Blog: How to Add Outlook Calendar to Google Calendar
Conclusion
How to import Outlook Calendar to Android Phone is a common query of the Outlook users that has many solutions. In this blog, we have suggested 2 different methods that will help them transfer Outlook calendar into Android calendar without any trouble. The choice of the methods is completely in the hands of the users. But, if you are looking for a professional solution, the software we have suggested in this blog is the best option for you.