How to Extract Specific Pages From PDF Using Adobe Acrobat DC?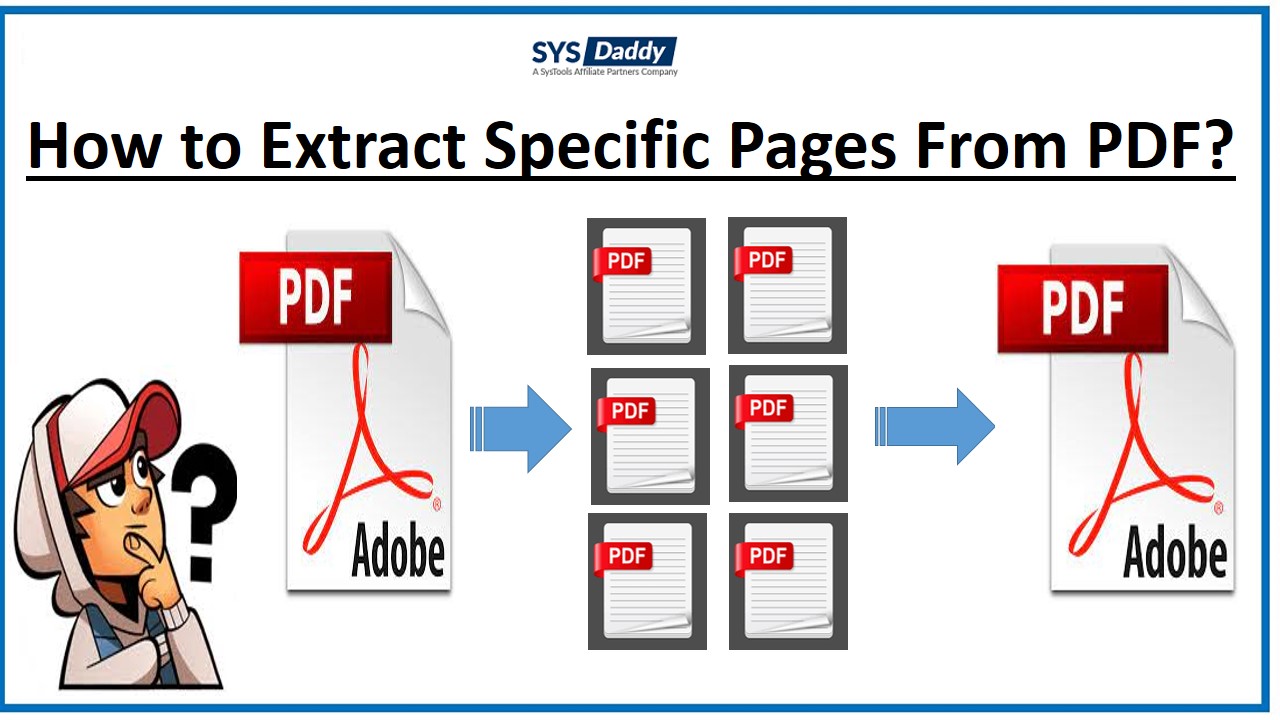 Do you want to know how to extract specific pages from PDF files that not only contains the text but also form fields, comments, and associated links? You can do this by using the Adobe Acrobat tool or SYSDaddy PDF Split and Merge Software. This tool will help you to split all the desired pages from the PDF file(s) into a separate file.
The automated tool is specially designed to split PDF or extract specific pages from PDF into separate files in six ways. Along with this, the tool provides you the option to merge PDF files as well. So, you definitely try its Free Edition here, you can download it from below.
For Windows
For Mac
Now, let us discuss more about both the methods in the next section of this tutorial. So, just give a reading to the article till the end.
Methods to Extract Specific Pages From PDF Document
However, there are two top methods that you can use to export certain pages from PDF file. These extracting methods are-
Now, let's know about these solutions in detail. So, let's move further.
Export Certain Pages From PDF Document Manually
Here, in this method we will learn how to extract specific pages from PDF using Adobe Acrobat tool. The Adobe Acrobat tool is given by Adobe systems which is one of the PDF applications. Moreover, with this software, you can view PDFs offline and online. Now, let us understand how? Follow the below steps-
1. First of all, open the PDF file in Adobe Acrobat DC application, and select Tools then, click on Organize Pages or you can select Organize Pages from the right pane
2. Now, click on the Extract opinion in the secondary toolbar
3. Now, you can specify the page range to extract specific pages of PDF. You can select any of the given options: Even Pages, Odd Pages, Landscape Pages, Portrait Pages, or All Pages. You can even provide the page number that you want to take out from the PDF file
4. Some options you should consider before hitting the "Extract" button:
To remove the selected pages from the original PDF file, you need to check the "Delete Pages After Extracting" checkbox.
You have to check the "Extract Pages As Separate Files" checkbox to create different PDFs for each extracted pages.
If you leave both boxes unchecked, you will get a single PDF that includes all of the extracted pages. The original PDF file will be kept as it is.
This is how to extract specific pages from PDF using Adobe Acrobat DC application.
Note:

The owner of the PDF document can set restrictions to prevent the extraction of pages. To see the security settings for a document, select File > Properties, and choose the Security tab.
Limitations of Using Acrobat DC Application
As you can see if a PDF file is having a page extraction restriction, then this method will be of no use.
Also, if you don't have the application you will have to take a yearly subscription that will cost you $14.99 per month.
On top of this, with the exception of Adobe Send, the Document Cloud services only allows you to upload and convert files up to 100MB.
This application sometimes fill in the blanks without auto detect. Which can make it difficult for you to align everything.
In addition, if you are not the administrator, then Adobe Acrobat doesn't always function.

.
How to Extract Specific Pages From PDF Using Automated Method?
However, the manual method which is discussed above as Adobe Acrobat DC application is nice but it comes with some limitations along with it. So, if you are looking for a more affordable but efficient option then try SYSDaddy Designed Software. As this is the tool that can easily help you to export certain pages from PDF document. All you have to do is download this application and follow the simple steps.
Note: Free Edition is the demo version of the tool. It will process 5 PDF files and produce resultant PDF files with a "SYSDaddy" watermark. To avoid the limitation get its full version.

How to Extract Specific Pages From PDF Using Automated Solution?

Download, Install and launch the tool in your system. Follow the steps to extract selected pages from PDF document file:

Firstly, choose the Split radio button to extract pages

Following this, click on the Browse & Insert PDF files: Click on the Add Files / Add Folder option

After this, choose Any Split Option: You can see there are 6 options to split or extract pages from PDF file

Finally, click on the Split button.

That is the complete automated process on how to extract specific pages from pdf document easily. SO, to understand this software, you will get amazing features also. Lets, discuss them as well.

Highlighted Features of the Utility

The utility is available for both Windows and Mac OS. So, you don't need to worry if you are using Mac operating system.
Moreover, you don't have to panic about PDF restrictions because this tool can extract or split pages from PDF while having the restriction.
Furthermore, in the case of the document open password, you have to provide the password of the locked PDF.
Not only this, but you also get an option to keep all the attachments in the resultant files.
Also, you don't need to about the formatting and any changes. Because, all formatting and all other file settings will be preserved while using this software.

Conclusion

In this blog, you learned how to extract specific pages from PDF documents. You can export certain pages with the help of Adobe Acrobat DC. But, above mentioned automated utility is more affordable because it particularly programmed to split & merge PDF files. It provides you 6 ways to split or extract pages and 2 ways to merge PDFs.