PDF Security Settings Removal Methods For Mac & Windows OS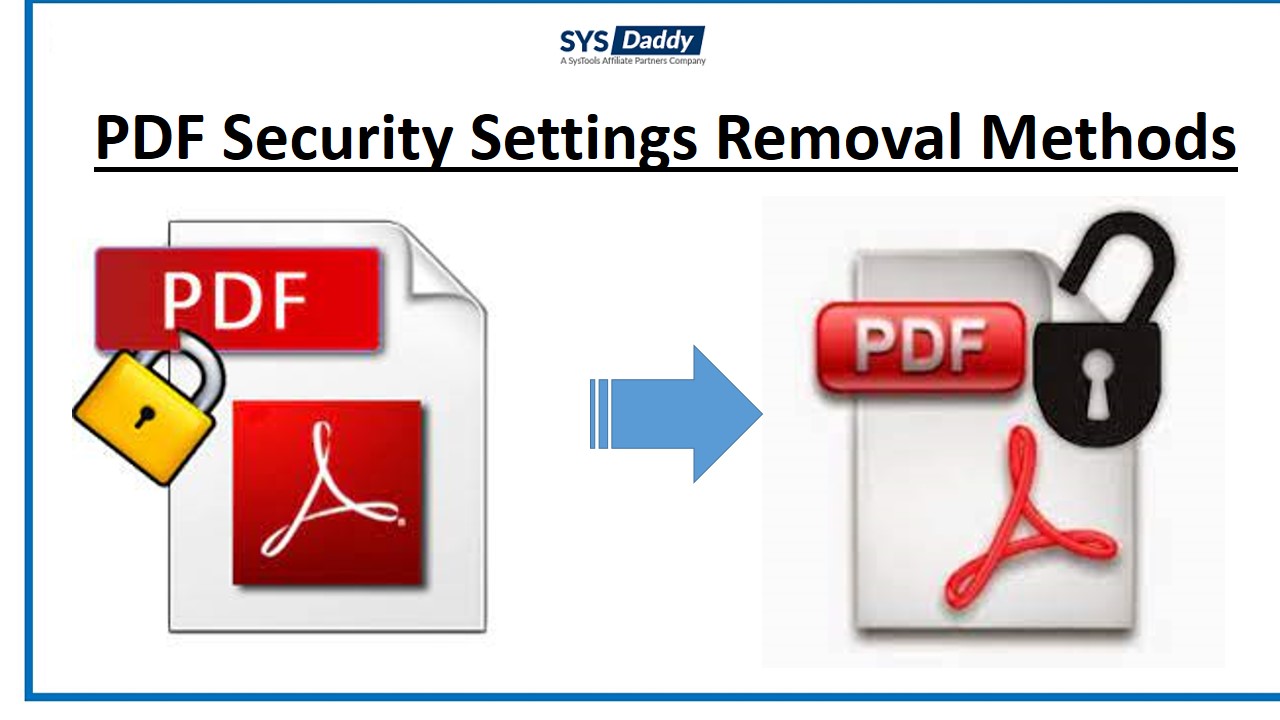 Before we talk about PDF security settings removal methods, one should know what are the 2 types of PDF security? And then, I will discuss how can you remove permissions from PDF or just simply remove opening password?
To protect PDF files either you can make it password-protected or establish PDF document restrictions using a permission password.
These are called User-level security & Owner-level security.
In the User-level, you just simply encrypt your PDF files using an OPENING PASSWORD. So, that one should know the password only then, he/she can open the PDF document.
In the Owner-level, the owner restricts some activities in the PDF files. For example restrict editing, printing, copying, extracting pages, etc.
Solutions to PDF Security Settings Removal
To remove these either you can use any of the two methods mentioned below-
Note- Automated password remover does not even need a permission password to remove PDF document restrictions. But, on the other hand, Acrobat Pro needs a permission password to remove PDF document restrictions. On top of this, it's expensive too!
Use Acrobat DC (Windows) / Acrobat PRO DC (Windows + Mac)
To unlock PDF for editing on MAC you should go for Acrobat Pro or if you are using Windows, you can use the standard version of Acrobat DC.
BUT REMEMBER – You should provide an opening PDF password or a permission password in Acrobat for PDF security settings Removal.
To unlock PDF files or remove PDF document restrictions using Acrobat PRO or Standard, follow these following steps:
Firstly, open the PDF files or documents in Acrobat
Now, click on the Unlock tool: Choose Tools option >> Protect option >> Encrypt >> Remove Security
Finally to Remove Security: According to the PDF security setting use any one of the following steps:
If the document has User-level security (Open password), then, click OK to remove it from the PDF
but, If the document has an Owner-level security or permissions password, type it in the Enter Password text box, then click OK. Lastly, click OK one more time to affirm it.
If somehow if you have forgotten permission password, then you can use an automated tool/. So, let us know about it in the next section of the tutorial.
Automated Method For PDF Security Settings Removal
When the manual method fails to remove PDF security by an any reason, then it comes a need of an most dynamic and trustworthy solution. So, in this scenario, you must go for the SYSDaddy PDF Password Remover Software. Because this is the best and reliable software you can trust on. Moreover, it is available for both Windows and Mac operating system users. Any of you can you use it very simply because of it's simple interface.
To know more about this tool, how it works and what benefits you get download the software from below.
For Windows
For Mac
Step by Step Guide to Unlock PDF File in Windows
Download & install the software to unlock PDF for editing or simply removing the opening password. Then, follow the steps mentioned below for Windows operating system users
For Windows OS: 11 / 10 / 8.1 / 8 / 7 or Vista & below versions
First of all, click on the Add File or Add Folder icon

Now, click on the Browse option to add Multiple PDF Files or folders to remove PDF document restrictions

By doing so, you can see the Permission Status of the PDF File. After this, click on the save or print option

At last, again click on the Unlock PDF button to remove security & unlock PDF Files.
Guide to Unlocking PDF files on MAC OS
Download the Mac version of the mentioned software and follow the outlined steps below one by one.
For MAC Operating Users: Mac OS X 10.15 (Catalina), Mac OS X 10.14 (Mojave), Mac OS X 10.13 (High Sierra), Mac OS X 10.12 (Sierra), Mac OS X 10.11 (El Capitan), Mac OS X 10.10 (Yosemite), Mac OS X 10.9 (Mavericks), MacOS X 10.8 (Mountain Lion)
To process this tool on MAC OS install JDK & JRE 8 from HERE.
Firstly, click Add File(s) / Add Folder(s) to add password-protected or restricted PDFs. Then, click Next button

Click on Unlock to remove PDF Files from Owner or User Level Password security

Instantly removes PDF document restrictions or passwords on Mac. Click OK.

Note: The tool does not need any permission password to remove restrictions (Owner-level). However, to remove the opening password you need to give the password (User-level).

This Application Removes All Kinds of Restrictions

This utility is packed with powerful functionalities that can remove all kinds of PDF document restrictions like:
Printing
Editing
Copying
Extracting pages
Commenting
Signing
Document Assembly
Filling of Form Fields
Creation of Template pages
Safeguards All PDF Attachments
PDF files or documents attached to the main PDF or attachments with another file format will be preserved.
Will Maintain Image Quality and Layout
This tool will take care of the document layout, structure, margin, page breaks, font. And will not hinder the quality of the images.
Unlock PDF restrictions and remove encryptions from password-protected PDF files from (Advanced Encryption Standard) AES & RC4 128 & 192 bit encrypted PDF.
As this is a desktop tool hence, your data will be safe and there will no restoration of passwords, unlike online websites that unlock PDF files.
Conclusion:
In this blog, we told about the top two solutions for PDF security settings removal for both Mac & Windows operating system.
You can either use Adobe Acrobat DC / Acrobat PRO or an automated tool.
However, the Acrobat needs an annual subscription in which you have to pay $12.99 & $14.99 EVERY MONTH respectively for Standard & PRO. People choose a more affordable option which is robust like Adobe tool. That is why we have also mentioned the best alternative for it.
Now the choice is yours which software you want to go for!
FAQs
Q- I need to remove restriction from corrupted PDF file, does this solution remove it?
No, the above mentioned software only removes the restriction from the healthy PDF file.
Q- With the help of this application will I be able to unlock multiple PDF files?
Yes, of course, with the help of this application will I be able to unlock multiple PDF files. Because there is no file size limitation.
Q- Does this automated tool PDF security settings removal supports Windows 11 also?
Yes, this automated utility supports all the Windows (11 and all earlier ) operating system versions.