Export Outlook to Mac Mail: Top Techniques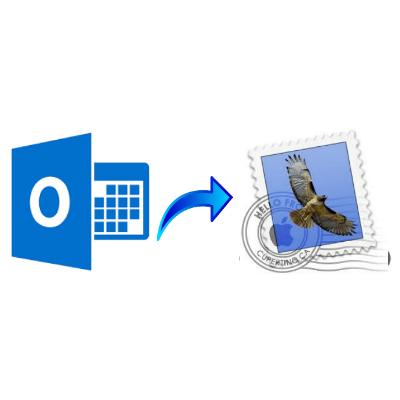 "I was given an Outlook mailbox file that I need to open on my Mac Mail. Unfortunately, Mac mail does not support PST files. For this reason, I have to convert the file format to save the file in a compatible format.  If anyone knows how to export Outlook to Mac Mail, please share."
Users need to move their Windows Outlook mailbox on mac Mail due to various reasons. Some people may switch their systems and get a Mac machine. Some people may find their Outlook not working and to access the PST data, they need to open it on Mac.
Whatever may be the reason, this is a tricky problem as it involves cross-platform migration. If you are having the same issue, this blog is for you. It will talk about the approaches that can be adopted by the users to add MS Outlook Mailbox in Mac Mail.
2 Ways to Convert Outlook Emails to Mac Mail
There are several ways to move the Outlook PST file mailbox into Mac Mail. Here, we will discuss both manual and automated methods one by one.
Related Solution: Import PST to Thunderbird without Outlook
Automated Method to Export Outlook to Mac Mail
For Mac
For Windows
If you want to quick and safe solution for data migration, you can try the automated applications that help to convert PST to MBOX without Outlook format in some easy and error-free steps. The trustworthy PST File Converter Software is such a program that is suitable for all the latest Mac OS versions including 10.15 Catalina.
This software runs without help from any additional applications and adds Outlook mailbox files in Mac Mail by converting the source file in MBOX and other formats too. It comes with a simple interface that any user can run without facing any hardship to add Outlook mailbox in Mac Mail.
Steps to Export Outlook Emails to Apple Mail / Mac Mail
Step 1. Launch Mac PST Converter Tool.
Step 2. Click on Add File button and select PST files.
Step 3. Select MBOX as a target format.
Step 4. Browse to the location for saving the file.
Step 5. Click on the Export button to initiate the file transfer.
Now, Open Mac Mail and Import the MBOX file.
Manual Method to Extract Outlook Emails to Mac Mail
In the manual method, the Windows Outlook mailbox is moved to Mac Outlook and exported as an MBOX file for importing into Mac Mail.
Note: For this method, Mac Outlook installation is mandatory as we will use the native options provided by Mac Outlook for data conversion.
Before beginning the process, make sure to transfer the Outlook mailbox file into the Mac machine.
Open Outlook for Mac and from its File menu, choose Import option.
Select the "Outlook data file" -> "Outlook for Windows data file".
Select the PST file from your system and click on Import.
The import will begin. When it is completed, select done.
The file will be stored in On My Computer folder. Directly drag and drop the file on desktop and the file will be saved as MBOX format. Now you can import the file using the options of Mac Mail.
Drawbacks of Using Manual Technique
The manual method mentioned above contains some disadvantages. Some of them are:
This manual method requires installation of Mac Outlook on the same Mac Machine. If you do not have that, you will not be able to implement this method.
With this method, other Outlook data like calendar and contacts cannot be exported. This method only supports adding email data.
During this manual process, users may end up getting distorted email headers in the Output file. The attachments and embedded images will also be removed.
Author Suggestion
The Outlook mailbox data is stored in PST format which is not supported by Mac Mail. For this reason, users have to change the file format into Mac Mail supported MBOX. If you have Mac Outlook, then you can easily use the manual method to add an Outlook mailbox in Mac Mail and continue working. This method will not cost you any extra money.
But, if you do not have Mac Outlook, then the alternative application will be best suitable for you. It will convert all the mailbox data along with original metadata without any corruption. Users can choose the method they want based on their requirements.