Best Ways to Batch Convert MSG to PDF File Format Effortlessly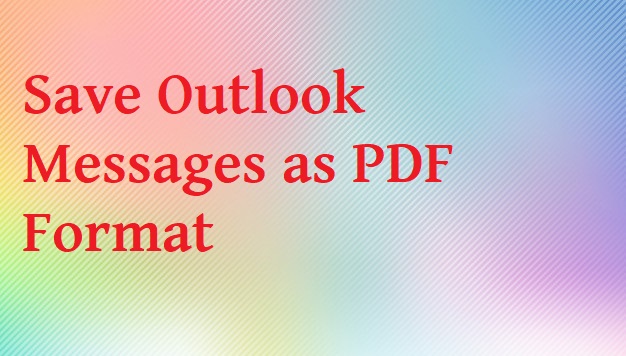 Today, we take look at this problem and find a trouble-free solution to batch convert MSG to PDF format. Read the article in more detail to know the steps to save Outlook messages as PDF document.
An MSG file was originally designed for MS Outlook and is a file format for storing plain text, hyperlinks, calendars, attachments, body of messages, and contacts. However, this file is associated with the Microsoft Outlook email client. If the attachment is included with the email, it will also be saved in the saved MSG file.
However, a PDF file is a document file, intended for portable document formats. Originally produced by Adobe Corporation, it contains a complete description of any concept, including images and original resolution.
Free Method to Convert MSG File to PDF Format
Here, we will describe the free method to convert Outlook MSG to PDF file format without problems. Just follow all the instructions to run the procedure. Let us begin:
1. First, choose an MSG file and open it in MS Outlook. After that, select any Outlook email message to continue.
2. Navigate to the File menu and press the Save option to continue.
3. Here, save the file in the preferred location in HTML format.
4. Now go to that location and right click on the .html file and open that file in MS Word.
5. After that, go to the MS Word File menu and click the Save As option.
6. Lastly, choose the portable document format to save the MSG file into PDF format.
A Proficient Way to Save Outlook Messages as PDF File Format
After understanding that the manual solution does not have the ability to batch convert MSG to PDF format. You can use an efficient solution called "MSG to PDF Converter". With the help of this utility, you can instantly export MSG files to PDF format with a few clicks. This tool comes with an explanatory and understandable user interface. Therefore, any user, be it a beginner or a technician, can easily operate this application without the need for external help.
However, you can use this software on any Windows and Mac OS machine. It is widely compatible with advanced and later editions of the Windows operating system and Microsoft Outlook. Just click the download button to get the free demo version of this tool.
Download Now
Windows OS Buy Now
(100% Secure)
Download Now
Mac OS Buy Now
(100% Secure)
Steps to Batch Convert MSG to PDF Without Outlook
Step 1. Run the MSG file to PDF converter and select folder having MSG files.
Step 2. Preview email messages and hit on the Export option to proceed.
Step 3. Now select the radio button corresponding to the PDF option.
Step 4. Here, you can apply the Advanced Filter.
Step 5. Browse for the destination location and click on Export button to convert MSG file to PDF.
Here you can see the progress report of the export procedure of the MSG file.
Why User's Require to Convert Outlook MSG to PDF Format?
There are several reasons why a user wants to save Outlook messages in PDF format. Read some of them below:
1. MSG files can be easily modified and corrupted as it is not such a safe file format. Maintaining security issues in PDF format is easy as the data remains secure and cannot be changed.
2. MSG files cannot be saved as backup, but PDF can be saved as backup for a long time.
3. PDF is independent in nature as no third party application is required to open that file. It can be opened on any platform of the operating system.
4. The integrity and format of the data are maintained in PDF file format and not in Outlook MSG files.
5. When PDF files are shared by email, they can be easily opened and accessed, but MSG files as attachments are difficult to access and view.
Author Suggestion
In the discussion above, we have explained all the details about how to batch convert MSG to PDF file format without data loss. Users should know that the free method does not have the ability to convert MSG file to PDF in bulk. So, in this situation only an automated tool app can work positively. Therefore, in the above-section we also suggest an effective application to perform Outlook messages to PDF file conversion procedure.