How to Fix Corrupted PDF Files on Windows & Mac OS?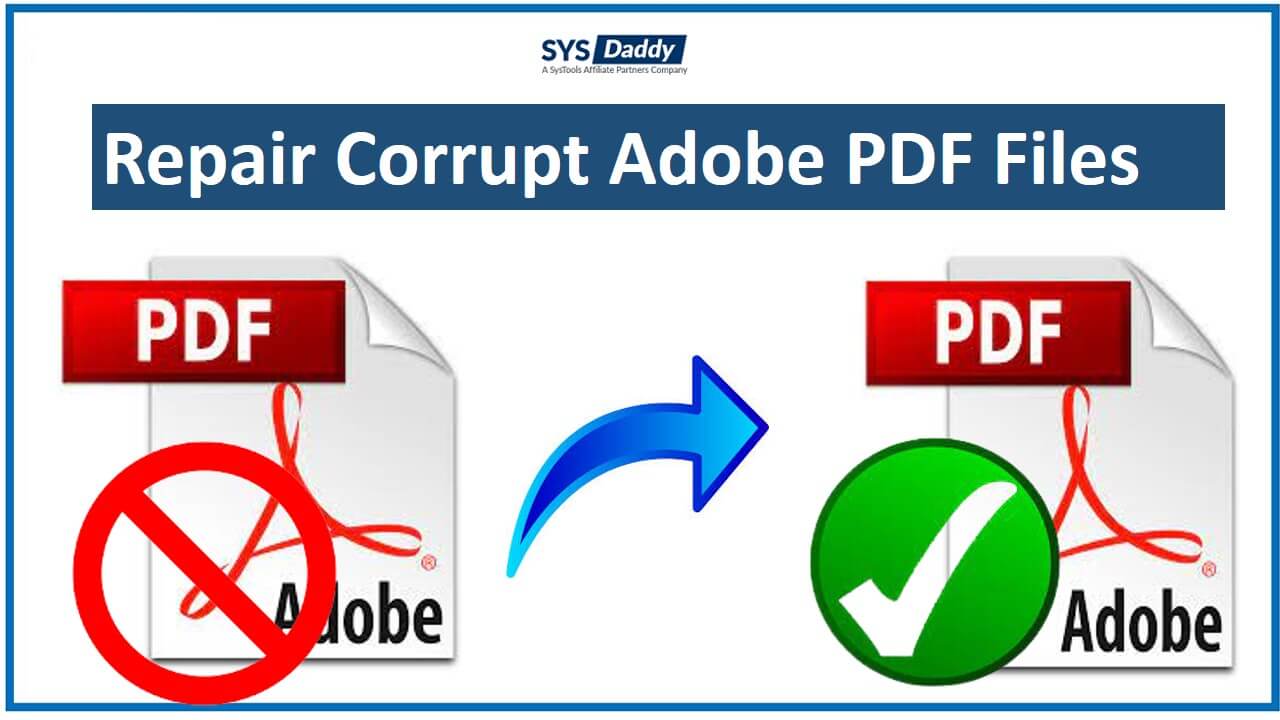 Are you facing issues while opening the PDF file? Is your PDF file document get damaged? Do you want to repair corrupt PDF file? If yes, then, we have got you covered with the different methods here. Just go through the entire blog to more about them.
Even because of the unlimited usage of the Adobe PDF document, it's still possible to get errors. We can imagine your situation when suddenly PDF stops working. How tragic this situation is no? However, it generally happens because of the unlimited sharable counts. But, no worries, here, we will be solving this error. So that, you can access the text data along with pictures in PDF files Mac & Windows.
But, before diving into the solutions for the same, first, let's get to know the causes behind this error.
Causes of Damaged Adobe PDF Document
However, there could be many reasons which make the PDF file inaccessible. Some of the causes for corrupted Adobe PDF file are-
An abrupt computer shutdown can be the reason for the damaged PDF file.
Improper handling of the PDF files is also one of the reasons which caused the corruption in the PDF file.
Sometimes, when you use online tools to open and edit a particular PDF file. There may be chances that it leads you to the corruption of the portable document file.
Or if you are trying to open the Adobe PDF file through a given link within a browser. Then, it might affect the PDF file and it can get damaged or inaccessible.
Just like these, there could be other reasons also. So, let's move to the solutions now to fix corrupted PDF file.
How to Repair Corrupt PDF Files on Mac and Windows?
There are different tactics that you can use to fix damaged PDF document –
So, now, let's just get the idea to know all methods one by one to repair corrupted Adobe PDF file.
Manually Repair Adobe Corrupt PDF Docs through Temporary File
In this method, you should go and find the temporary PDF folder. However, the default path is on Windows is-
C:\Users\\AppData\Roaming\Adobe\Acrobat\9.0\AutoSave\
After finding the PDF temporary file, run the Adobe Acrobat 9.0 on your PC. Now, open the PDF document
By doing this, you can view the content, so just save the PDF file as a new one.
Try Different PDF File Reader Tool
The other way to fix corrupted Adobe PDF file is to open with another PDF reader software. When your PDF file becomes inaccessible and you want to repair it. And in this situation, you can't open it through the Adobe Acrobat application, so you should try another one. There are multiple online PDF reader tools for Mac and Windows that you can use.
But, what if none of the above-mentioned ways won't work? Tragic situation no? But, don't fret. Just read the next section carefully.
Automated Way to Fix Damaged PDF File Windows & Mac
Due to the above manual methods failure, it's time to opt the automated solution to fix corrupted PDF File.
So, if you want to get back all the data of PDFs, choose SYDaddy PDF File Recovery Software. Through this, you will be able to repair damaged PDF document easily.
Also, it will resolve the error in just a few minutes. After repairing, you will get a healthy PDF file as before. So, use this software either with Windows or Mac OS. It works with both OS machines and supports all the versions.
Download the free version of this software to try from below-
For Windows
For Mac
Guidelines to Fix Damaged PDF Document on Windows
Before anything else, download the utility on your computer system. After this follow the below steps to repair corrupted PDF file –
Firstly, Load the damaged, corrupted, or inaccessible PDF file

After this, a dialog box will be arriving by saying scanned PDF completely

By doing this, you will be able to Preview repaired PDF Document data

Finally, hit the Save PDF and export the file at any location.
These were the easiest steps that you need to do in order to repair corrupt PDF file on Win.
How to Fix Corrupted PDF File on Mac?
So, to repair damaged Adobe PDF document on Mac, download the application on your PC. After the completion of the launch, follow these steps-
Initially, click on the Add File or Add Folder that you want to repair

Then, click on the Scan button for the scanning of the files

Now, you can Preview the entire data of the repaired PDF files

Finally, hit the Save button to export the fixed PDF document at any location.
Conclusion
Though the Adobe PDF file is very crucial when it comes to saving the entire data in a portable format. Because on the popular terms, it does not mean it doesn't get errors. So, if the error is related to a damaged, corrupted, or inaccessible file. It becomes a severe problem.
In this article, we have shared all the possible methods to fix it. Therefore, to repair corrupt PDF file you can opt any method. However, the above-stated manual methods don't provide the guarantee to give you all the data back. Hence, we recommend you to try SYSDaddy Utility. So, use this professional software with an easy user interface for Mac and Windows OS.