How to Transfer Spectrum DVR Recording to External Hard Drive to Make Memory Space?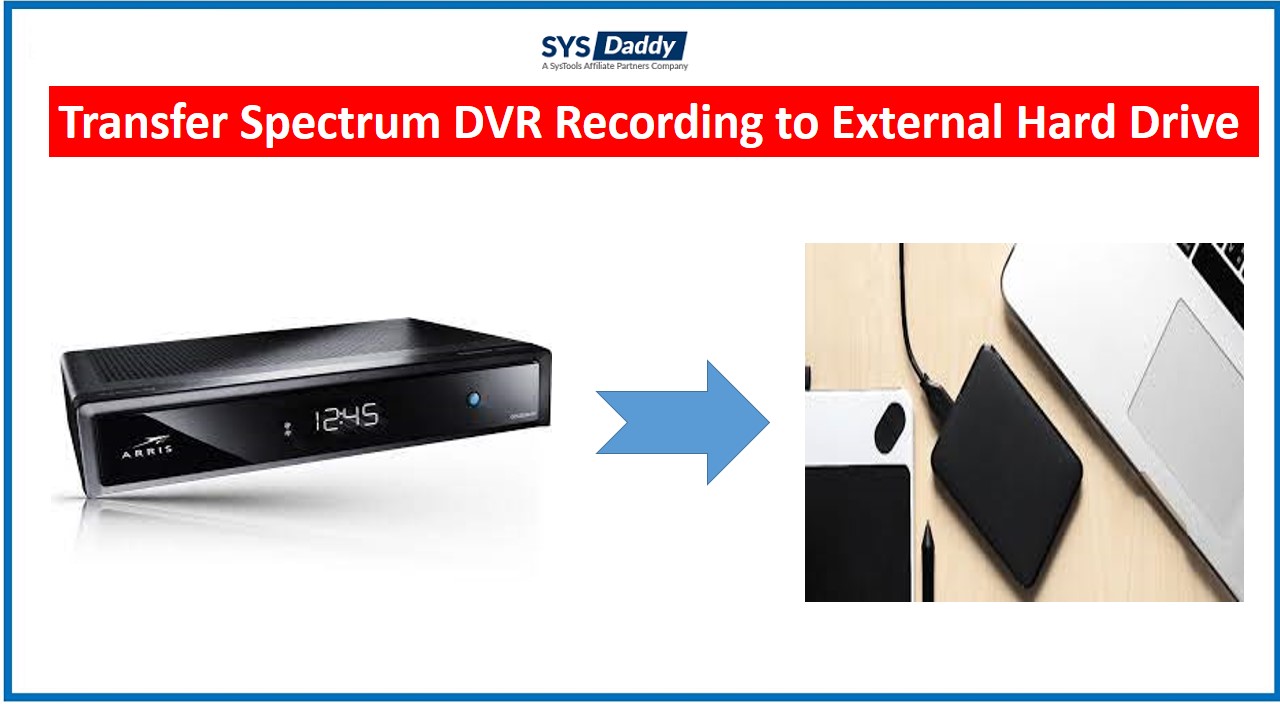 Are you hunting for a solution on how to transfer spectrum DVR recording to external hard drive? Did your DVR not recorded anything in the system? No worries, we are here to provide you the best solution. So, read this blog to overcome such severe situation.
It was a Friday office closure. Some butter popcorn and a favorite TV Show like a good way to relax. You were looking for the scheduled recorded shows. And something horrible happens. There is no recording in the system. What? None of your shows was recorded. It's Sad!
What Could Get Possibly Wrong?
Well….Might be possible that your recording space running out of storage.
So, it's time to make some space in your DVR storage without losing your previously recorded shows.
Therefore, without wasting any second. Let's dive deep into this situation and learn how to transfer Spectrum DVR recording to external hard-drive storage.
Let's get started!!
Why We Need to Transfer Spectrum DVR Recording to External Hard Drive?
In the following section, we are going to unveil the top 3 reasons due to which a user needs to move their recordings of DVR into some other external storage drive such as Hard-Drive, Flash Drive, etc.
#1: DVR Doesn't Allow Schedule Recording
The less storage space causes the automatic deletion of scheduled recordings. And when the users look for the recordings, then there is nothing to show and DVR doesn't permit the user to allow further recording.
#2: Space is Almost Full, Can't Record More
The time when Spectrum DVR disk space remains less than 5%, means the storage is more than 95% full. Now the storage bar appears Red. At this moment, the DVR will not record further shows until the user DELETE the old recordings and create some room for new ones.
#3: Corrupted DVR – Transfer Spectrum DVR Recording to External Hard Drive
It might be possible that recordings have corruption. Due to which it doesn't display on the screen. In such a situation, you need to take the help of DVR Hard Drive Data Recovery software that helps you to recover deleted shows on Optimum DVR. This tool can recover deleted data from hard drive. You can also download this utility on any version of Windows after clicking the below button.
Engineered to recover deleted doc files in Windows 10 into a healthy form from the device like DVR hard-drive, USB, Pen-drive. Besides, it recovers Spectrum DVR deleted shows too with an excellent recovery rate. For more information, visit the official website. This tool can recover data from buffalo hard drive.
Steps to Transfer Spectrum DVR Recording to External Hard Drive
Download the software from above and follow the steps given below-
Initially, select the Partition and choose Scan or Formatted Scan
Then, Preview all the data of the DVR recording
After this, apply Advance Filters according to your needs
Lastly, click on the Save button to save the data on your local Hard Drive.
Time to Create Space for New Recordings in Spectrum DVR
After reading the reasons, the only thing that resolves this situation is to transfer Spectrum DVR recordings to external drive. Spectrum DVR provides the eSATA port to attach the external hard drive. Using this, one can smoothly format RAW drive to NTFS without losing data or an external HDD. All you need is an eSATA cable to perform this.
Steps to Connect Spectrum DVR with HDD via SATA Cable
First of all, Power on the External Hard drive by plugging in a power supply connector
Then, wait about one minute to let the hard drive optimize its speed
After this, connect one end of the cable to the backside of a DVR box
Other eSATA cable end will be connected to the powered-on External Hard Drive
So, once the Hard Drive is detected, your dialogue message will ask you to format the hard disk. Click on Yes to continue.
Note – In some cases, the external hard disk is not supported by the DVR (Spectrum receiver box), a dialogue message box will appear saying DVR hard drive not detected on this system. There are two reasons behind them, either Variables like file systems of HDD and DVR dedicated format are not compatible with each other or Spectrum does not provide an eSATA cable port on their DVR or is disabled by the company itself.
Method to Connect DVR with HDD in Absence of Port
Spectrum keeps updating its DVR cable boxes from time to time. These updates include several factors such as storage space, recording factors, video resolution, etc.
The eSATA port is one of these features which is not possessed by each Spectrum DVR. This unavailability of the eSATA port does not allow the transfer Spectrum DVR recordings to external hard drive. In such a case, you need to perform the following instructions.
Step 1: Firstly, remove the HDD from the Spectrum DVR manually.
Step 2:Then, connect the hard drive to the PC/laptop system using:
Data Cable (eSATA/IDE data cable)
Power supply cable (Serial ATA Power cable)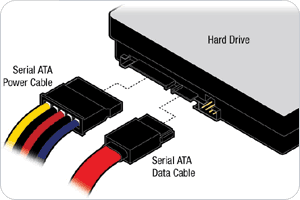 Step 3:As a result, the hard disk would be detected and you will be notified on-screen.
Tip – Just in case if the hard disk is not detected in DVR, then right-click on the My PC icon on Desktop and go to the Manage option. Check if the attached hard drive is detected. Refer to the respective driver if it is not detected by the OS.
Step 4: Now you can explore the files and select the recordings folder. Select the recorded shows files and using Ctrl+C and Ctrl+V command simply copy-paste the files in the PC.
Author Suggestion
As we see above that the query "how to transfer Spectrum DVR recordings to external drive" is simple to execute. However, it becomes complicated when the DVR doesn't support the external hard drive. But we have provided the automated solution for the same too. So, you can just go for the SYSDaddy Solution and complete the task effortlessly.