Adobe PDF Document Page Extraction Not Allowed – Solved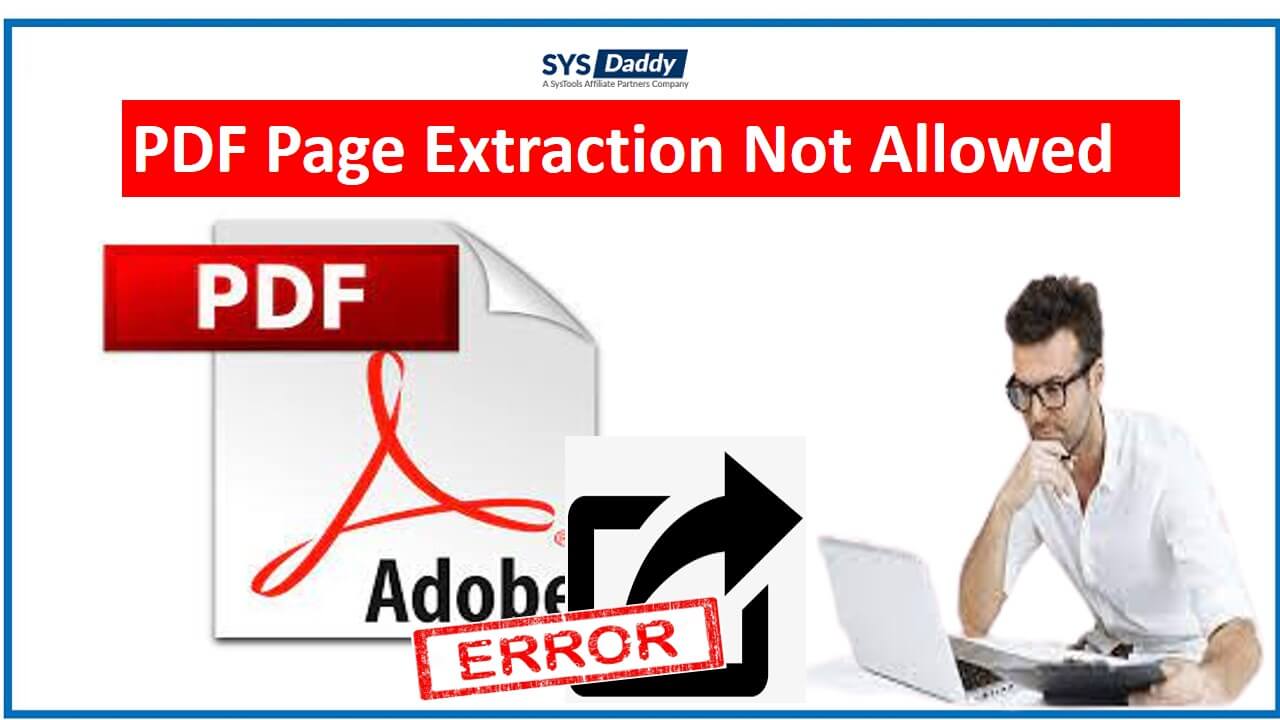 Summary: Are you worried when you get a prompt message "PDF page extraction not allowed? Have you tried different solutions to find out why page extraction is not allowed in the source PDF documents? But still not getting the reason behind it? No worries, in this article you will get all the answers to your questions.
You may be getting this PDF file page extraction not allowed because of multiple reasons. There could be some restrictions over it.
However, it occurs many times because everyone wishes to keep all the files secured. So, when you put security permissions to protect your PDF files it disables the page extraction options.
So, in this article, we will be discussing how you can enable this option and what will fix this issue.
Solutions to Fix PDF Page Extraction Not Allowed
To resolve the page extraction is not allowed in the source pdf documents issue, there are two methods. So, you can try these available methods –
Professionally Fix Page Extraction is Not Allowed in the Source PDF Documents Issue
The most advanced and integrated with amazing features professional solution can be used to fix this issue. Here, this will automatically solve the PDF page extraction not allowed error. Eventually, you will be able to extract whatever data you need from PDF.
So, for this, you can use the SYSDaddy PDF Extractor Wizard. This program is really useful and enables page extraction easily. Along with it, there are multiple advanced features. Such as, it is available for both Windows and Mac operating system users.
Likewise, it supports unlocking known user-level protected Adobe PDF documents. In fact, if you want to go for the demo version first. Then, there is an availability of a free demo version that you can use and unlock some limited PDFs.
For Windows
For Mac
Guide to Extract Files From the PDF Document
First of all, download the software on the computer system when PDF page extraction not allowed. Then, follow the steps as mentioned below –
In the initial step, go to the Add File or Add Folder and tap the Next button

Now, in the second step, just select the Item Type and Apply Filter

After this, Apply Page Settings as per your requirements in PDF

At last, click on the Extract button to complete the entire process and you will get a completion process message.
Note: There could be a scenario when your PDF is locked and that's why you may be facing an Adobe PDF page extraction not allowed issue. So, in that case, you need to unlock your PDF file by using professionally tested SYSDaddy PDF Unlocker Software. By using this program, you can easily unlock it whether it is secured. Eventually, it will remove all the restrictions and you can access the data of your PDF file.

For Windows

For Mac
PDF Page Extraction Not Allowed – Fix Manually
When you can access the Adobe PDF and enable the page extraction. Then, you will see extraction options and be able to extract pages from PDF documents. So, to perform this task manually, you can use any appropriate methods given in the next section of this article.
Use Adobe Acrobat on Mac or Windows OS
So, to fix this Adobe PDF page extraction not allowed issue, you can try the Adobe Acrobat application. Hence, follow the guidelines given below on Mac or Windows OS –
Firstly, launch the Adobe acrobat professional application and then tap on the Open button. Use it to open the PDF document that you need to extract
After opening it, mouse-click on the Pages option from the left panel. By doing so, the PDF page will be displayed as a thumbnail image
Now, set all the pages accordingly. To set all the pages, navigate to the Pages panel and drag the thumbnail images of the PDF pages that you want to extract
After doing this, open the Document option and here tap on the Pages icon. Now, just pick the Extract Pages option
Once you're done with it, set the PDF page range. But if the range from the Extract Pages dialog is not correct, then, you should go further to the right page range
Or you can select the Delete Pages After Extracting option if you want to delete the extracted pages from the original document after extraction. But, if you're planning to save the extracted files in the new file then you can pick the checkbox next to Extract Pages as Separate Files
Finally, tap on the OK button for the extraction.
Fix PDF Page Extraction Not Allowed Using Google Chrome
Another manual method you can try is by using Google Chrome. So, just implement the guidelines as mentioned below for fixing extraction issue –
After opening the Google Chrome browser, just press Ctrl + O to open the PDF file
Now, here, enter the filename and tap on the Open button
After doing this, navigate to the menu and pick the Print option
To move further, mouse-click on the Change button and select the Save as PDF icon
When you're done with these steps, just type your desired page range and click on the Save button
Last but not the least, all your required PDF pages will be saved at the new location path.
Final Words
Here, in this article, we have talked about the most asked query which is why PDF page extraction not allowed. However, if at some point of time you want to extract but all you get is an error message. So, this must be solved, that's why we have shared possible strategies here. Hence, you can go for the manual methods to fix the Adobe pdf file page extraction not allowed issue. Or if they fail, then we recommend you to opt a professional solution. Use them and make the best out of them.