How to Import Multiple PST Files to Office 365 Mailbox?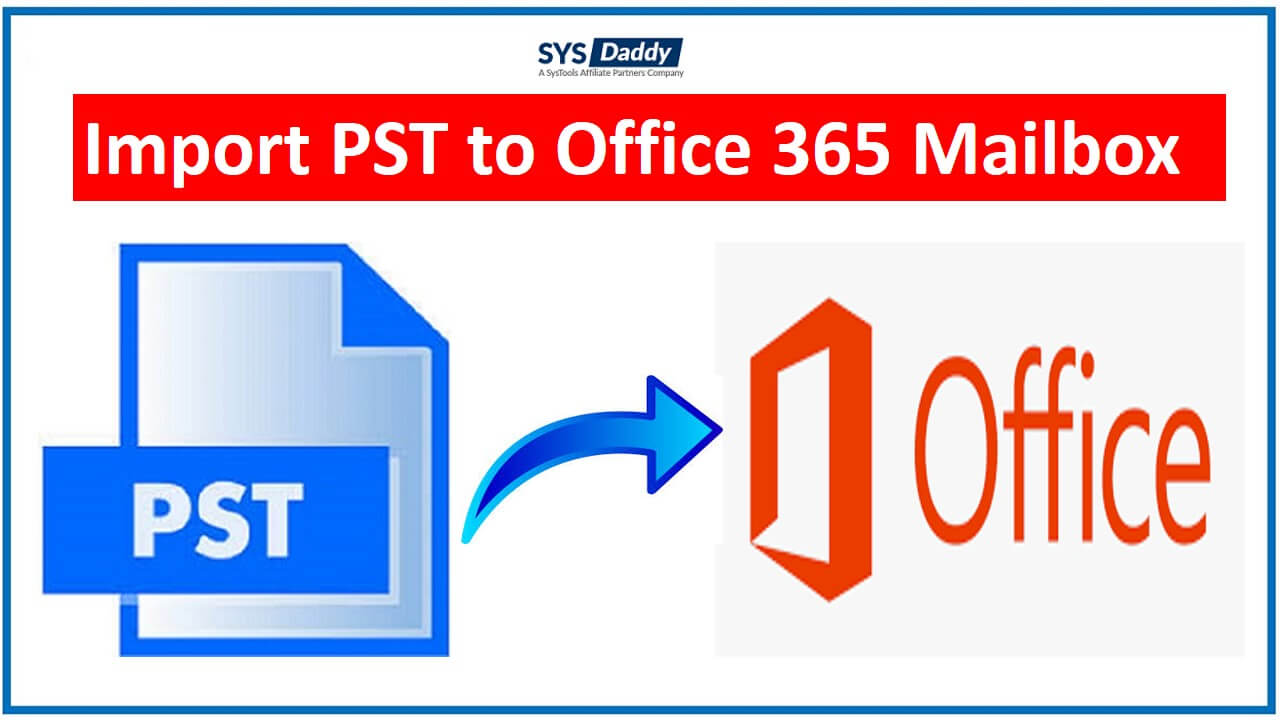 This article consists of different methods to effortlessly import PST to Office 365. Don't you know how to import your PST file into Microsoft Office 365 mailbox with or without Outlook? Then, understand the mentioned solutions in this article. After implementing them, decide what is the best suited for you.
Why Importing PST File to Office 365 is Necessary?
However, we all know that the .pst file is a personal storage table which stores the Outlook data such as emails, contacts, calendars, task, notes in a single file. Depending upon the requirement of user there are many cases due to which import PST to Office 365 becomes necessary.
Many organization stores the Office 365 mailbox data of an employee PST file when they left the organization. Sometimes, when somebody needs access to that account data then they can import that PST file in their Office 365 account.
Some users backup their Office 365 mailboxes to free up the store space and organize the mailboxes.
Import shared PST files into own account for accessing data.
How to Import PST to Office 365 With or Without Outlook?
After researching for a solution, we have come up with different strategies to import multiple PST files to Office 365 effortlessly-
Use Network Upload For Importing Bulk PST Files
However, the Network Upload solution is helpful to bulk import multiple PST file. But, this is quite a technical method to perform. Moreover, to use it, you must have a good understanding of Office 365 Azure Center and PowerShell command-line knowledge. So, following are the steps you need to perform for importing PST file data into Office 365 mailbox:
Firstly, Copy the SAS URL and Install Azure AzCopy Tool
Then, upload PST to Azure Active Directory
Now, create an Import CSV file for mapping
After doing this, just create PST import Job
Once it's done, filter all the data and start the import job
Detailed Steps: How to use Network Upload to import Multiple PST files to Office 365?
Note: Although this method is free to use. However, you must have high technical knowledge. Also, you must be aware how to handle command for Office 365 admin center. If you are not aware of it, then, we recommend you for not using this method to import PST to Office 365. As a result, you will get/face major errors or corruption of the PST file, if not done properly.
Drive Shipping Method For Importing
After understanding the difficulties and complexity faced by all while using network upload, then Microsoft provided an Import service. This method is exactly same as Network upload, the only difference is, all the technical and hard parts will be done by Microsoft agents and they will charge you for that.
It means first you will need to copy the file to hard drive then ship that file to Microsoft. You have to initialize the process by creating an import job and CSV file for mapping. After that, placing PST file and CSV file into a hard drive and ship it to nearby Microsoft data center.
Note: Ship Driving method will cost $2/ GB of PST file data that will be importing to Office 365 account. Every time when you need to perform such task, you have to follow the steps.
Working Steps: Guidelines to Use Drive Shipping to import PST files to Office 365
Instantly Import PST to Office 365 Without Outlook
If you wish to import bulk PST files to Office 365 mailbox simultaneously. Then, the best solution is to use an automated professional software like SYSDaddy Office 365 PST Import Tool. This is specifically designed for such complex tasks to make the task easy. Moreover, this program will take the burden of import process upon itself and provides a quick approach to import PST files.
With the help of this strategy, you can easily import the file without losing any data. Furthermore, it is fully compatible with all the versions of Windows OS.
Steps to Import Multiple PST Files to Office 365
First, download & launch the mentioned tool on your desktop. Then, follow the steps to solve how to import bulk PST files to Office 365 query –
In the first step, mouse-click on the 'Is Office 365 Admin' if login as Admin otherwise skip this step

Tool Tip: If login as Admin, you can also import PST to Office 365 shared mailbox. Additionally, the tool doesn't require user account password for importing PST file

Then, choose between Add File / Folder / CSV buttons to import PST (if login without Admin, then require a password for each user)

After this, select the Category of data to be imported from PST file & Apply filters

At last, mouse-click on Import button to starting the process
Import PST to Office 365 With Outlook Manually
This requires the installation of MS Outlook on your desktop. But, if you don't have Outlook installed then skip this method and choose from the above three. If you have Outlook installed, then, follow the steps –
Open MS Outlook, go to File tab (top-left corner)
Choose "Add account" option from the window
Enter the details of Office 365 user account and click on "Configure"
After the configuration is finished, go back to File tab and click Open >> Import/Export
Now, from import/export wizard choose "import from a program or file" option >> Next
From Import window, choose "Outlook data file (.pst)" option >> Next
Browse the PST file location from computer and click Next
Choose the destination folder in Office 365 and tap on the Start button.
MS Outlook will start importing all the data from PST file into the Office 365 account. After finishing the process, login into Office 365 account and check for the new PST file data.
Note: The above steps are for importing a single PST file into a single Office 365 user account. Hence, this method is not suitable for organizational use. As it takes too much time while syncing of Office 365 in Outlook and import multiple PST files.
Conclusion
There could be many reasons when you may feel a need to use the PST file emails in Office 365. So, for that, we have shared the different methods to import PST to Office 365. All the methods have their own advantage over another. Hence, you can choose any method according to your requirement and easily import multiple PST files to Office 365 mailbox.