How to Recover Deleted Shows on Optimum DVR- Efficient Solution

In this article, we will be discussing the solution on How to recover deleted shows on Optimum DVR. Give a complete reading to the article.
Optimum offers a dynamic feature of recording fifteen shows at the same time at the low equipment fee compared to other DVR services.

But drastically lacks in providing the recovery of deleted recordings. This is the reason Optimum DVR users search for how to recover deleted shows on Optimum DVR. Let see if there is any solution.
Well, there is an Instant DVR recordings recovery which is the direct and straightforward method.
How to Recover Deleted Shows on Optimum DVR?
Yes, this software is specifically designed to recover the Recordings from the DVR hard drive. Its features are dedicated to recovery into healthy resultant recordings. It takes actions irrespective of deletion causes.
Please look into the list of issues that can be fixed using this solution.
Manual Deletion performed intentionally of accidentally.
Recordings removed automatically to make space
Less space caused deletion of recordings
Interrupted or deleted recordings due to power breakdown
Recordings corrupted due to malfunctioning of Hard Disk
Bad sectors of HDD erased the recordings
Inaccessibility due to corrupted hard drive
Why Optimum DVR Deleting Its Recordings?
When we talk about the deletion of recordings, there are several reasons that we need to consider before taking appropriate action. Identification of reasons is as important as implementing the correct solution.
Less storage Space – This is the primary cause for automatic deletion executed by DVR system. It needs space for the recording of the new schedule shows and for smooth functioning.
Power Outage – Shutdown of power supply while DVR is recording broadcasting program will certainly cause the deletion of that recording.
Corrupted Hard Drive – It is the most significant reason for the deletion. Most of the time the user remains unaware because there are no direct indications/signs to denote any ongoing malfunctioning.
Wear and Tear – Over a time, equipment firmware got wear and tear. DVR system is nothing different than others. Overlooked failures can lead to major blunders, for instance the deletion of recordings.
Mediocre Method to Recover Deleted Shows on Optimum DVR
Optimum provides an ordinary method of keeping recordings from deletion that is Keep until you delete them. Follow these steps to process this feature:
Step 1. Press on remote.
Step 2. Using the Arrow button to highlight and select the current recording program and press the SELECT button for the "Preferences".
(Active recordings denote a red dot next to the title name)
Step 3. From the open list of options, choose KEEP until/ Keep until space is needed.
(a) Keep Until option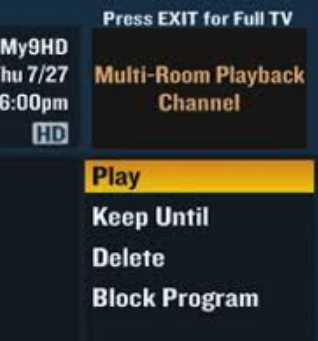 (b) Keep Until Space is Needed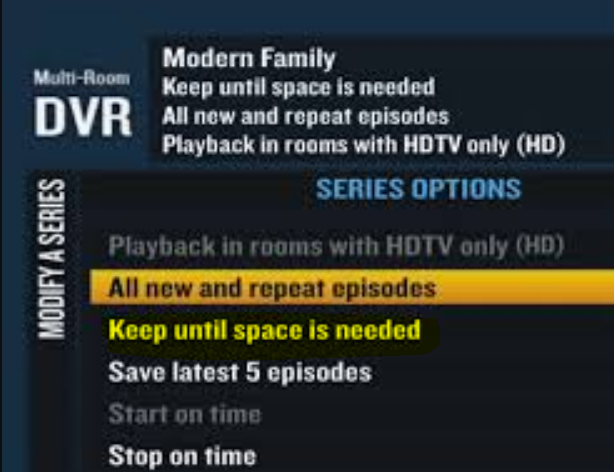 It will save your recordings till you manually delete them.
Note – Optimum DVR clearly mentions that once the program has been deleted, the content will no longer be available or can be recovered by any native means. So, select the option wisely.

Where Does This Below Average Method Fail?
Provide security for 14 days only. After 14 days there is no guarantee of availability of recordings in the DVR list.
Also, due to the shortage of DVR disk space it doesn't even assures that time limit either.
Overall, this storage space solution is good-for-nothing for Optimum DVR users.
Do You Want to Overcome This Obstacle?
SYSDaddy Hard Drive Recovery Software is all you need to tackle this issue. This is instant recovery software that functions flawlessly across many DVR brands including Spectrum, DirecTV, Dish DVR, etc. It offers a number of video formats to recover deleted shows on optimum DVR and several kinds of recordings, videos, and clips.
So, the user only needs to possess DVR recordings recovery, Windows operating system, and DVR hard drive along with the connection medium (eSATA cable or USB cable) to recover the recorded programs.
You can download the software from below and use the tool to check its action for recovering Optimum DVR.
Steps to Recover Deleted Shows on Optimum DVR
Step 1. Download and Launch DVR recordings recovery utility on your system to Transfer Spectrum DVR Recording to External Hard Drive
Step 2. Click on the Scan option to start the scanning process. This will detect and recover the deleted, corrupted, and inaccessible recordings in the drive.
Step 3. Check the boxes of the recovered recordings.
Note – Free version will let you preview the recovered recordings, to download and transfer them you would need to get the paid unlimited version that will provide unlimited access.
Step 4. Click on the SAVE button to transfer them to your specified location. Make sure to select a different drive or folder to store the recovered recordings.
After the transfer of your recovered recordings to allotted location, a pop confirmation dialogue box will appear on the screen.
Now, you can enjoy all of your all-time favorite shows whenever and wherever you want.
Author Suggestion
User struggles to understand how to recover deleted shows on Optimum DVR. But Optimum don't bother to advance its firmware and software to provide what users really seek.
But it doesn't mean you have to suffer longer. Recover and backup recordings of your all-time favorite shows to your desired location.
The only thing to consider is that your data must not be overwritten by any means. Always follow the above-mentioned steps to avoid overwriting of recordings and make the recordings recovery achievable.