How to Open Google Takeout Files Manually?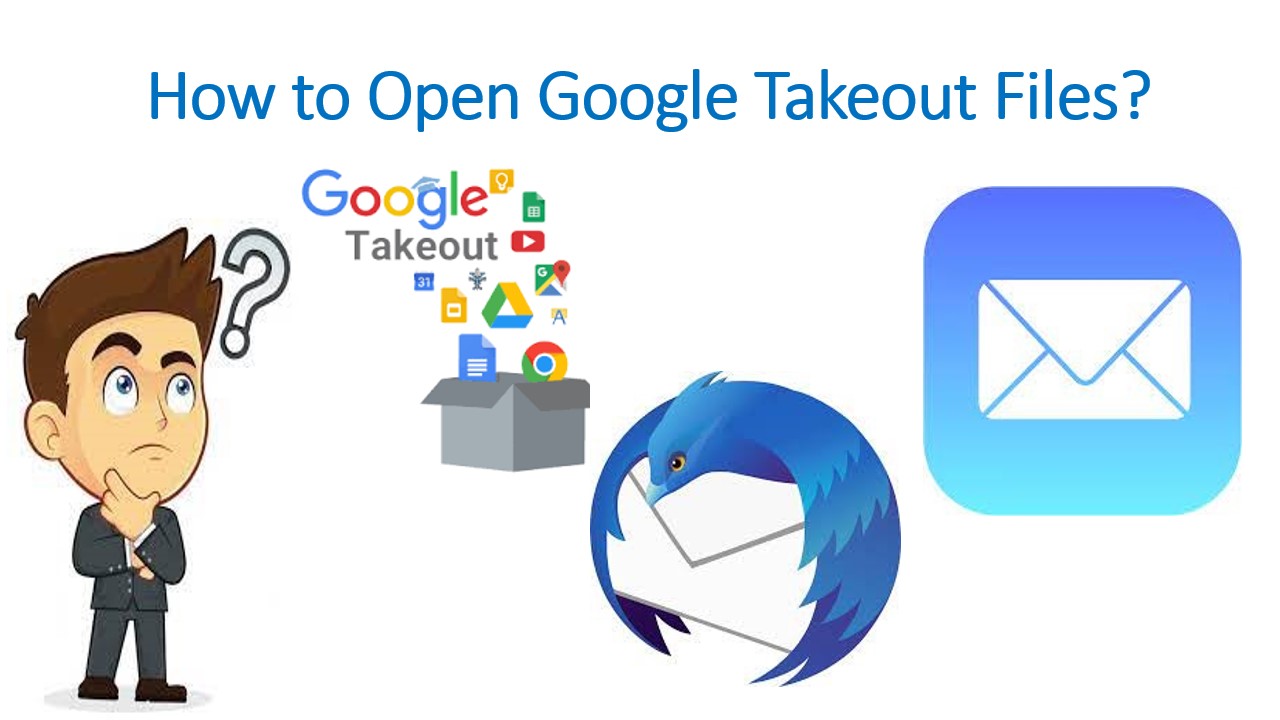 Summary: Have you downloaded the Google Email data and now are you looking for a solution on how to open Google Takeout files?
Don't fret, because, in this guide, we have discussed the best ways to open Google Takeout Mailbox files in Thunderbird, Apple Mail. We have described a SYSdaddy free Gmail MBOX File Viewer Software.
Give a reading to the guide to know more in a precise manner.
In this Article you'll get information about-
Practical User's Query:
Hi, I wanted to delete a few unnecessary emails from my Gmail account. I took the help of Google Takeout. But, I didn't get any files on my system. Can anyone suggest me how to open Google Takeout files?"

"Hi, I took a backup of a few files of Gmail account but when I downloaded them, I got them into zip format. Now I am confused about how can I open that data file. So can anyone explain to me what is a suitable method to open zip files of Google Takeout?"
These are the basic issues that many users face while opening Google Takeout and hence, are unable to take a backup of Google data.
Read More –
If you're also one of them and facing the same issues then don't panic. We have got your back. In this article, we will guide you on how to open Google Takeout mailbox files without a hitch.
Well, keeping a backup of the data is a great idea but before starting the way to open archived files. let's have a brief about the Google Takeout-
What is a Google Takeout?
In simple words, Google Takeout is an in-built application that exports all the data that you've ever cached on a Google account. If some of you don't know then to make it clear that the Google Takeout saved the file in .zip or .tgz format, you can download them later at your will.
Google Takeout is the perfect and easy method to save or backup your Gmail emails and other important tasks before you decide to flake off to Google. But, to open Takeout files you must have an MBOX supportable email client installed on your computer.
If you don't have any then the archive that you made will be of no use. Hence, you will not be able to open Google Takeout files on your system.
How to Open Google Takeout Files Manually?
In an attempt to open .zip and .tgz files. You can download the data and move it to another device. Give a reading to the following steps –
Firstly, navigate to takeout.google.com. By default, Google Takeout selects all possible data out of 41 data
Then, deselect all and choose the one you want to take a backup

Scroll down and select the Gmail check box
After selecting the particular data, scroll down and click on the Next step

In the next step, you will be asked to select the delivery method. Then, in the delivery method select an option where you want to download the archive file

Now, under Frequency select how frequently you want to take a backup of files

After that, choose the file size and file type accordingly

Following that, hit the Create Export button

When the archive is complete, you'll get an email from Takeout with a link to the archived files. Select Download Archive to start downloading, and this is how your data will move from the Google server to the Download folder.
How to Open Google Takeout Files Without any Email Client? – Free Solution
As we have discussed above two manual methods to open Google Mailbox files but there are some limitations along with it as they cannot open corrupt and damaged important emails.
Therefore, there comes a need for reliable software to open Google files. On top of that, you can open the downloaded files without having any other email clients.
Download the software from the button given below-
To get an idea, how this application works, give a reading to the given steps –
First of all, launch the application on your computer

Then, click on Add Files from the left panel menu bar

From the appeared pop-up window, select MBOX files. Then, click the Next button

Following that, press the Browse button and Select Path. Then, tap the Process button

After that, Preview the emails of the file

You can preview emails along with attachments with the given options.
How to Open Gmail Files in Thunderbird?
Though, you can transfer all Google Mail messages using Google Takeout, which downloads files into MBOX file format.
To open them, you can use Mozilla Thunderbird to access the data file. Then you can transfer them to another account as well.
To open the file in Thunderbird, you will need to download the ImportExportTool.
By using this Add-on, you can easily import the Mailbox file and convert it into a folder that includes your messages and calendars.
First and foremost, go to the Mozilla Thunderbird application, and from the menu bar select the Tool option, and from a new pop-up select Add-ons and Themes option to open the Add-on Manager page

Go to the Extensions option, then, search Import- Export Tool

Afterwards, a new window will appear on your screen, click on Add to Thunderbird option

Following that, you are asked to Add Import Export NG tool, tap Add

As of now, the Import-Export NG tool is added now in your thunderbird, afterwards, exit the Thunderbird application
After a bit, start Mozilla Thunderbird again
From here on, click on Local Folders to deposit the Google file there.
Subsequently, go to the Tools option (press Alt if the menu bar is not visible) > ImportExportTools > Import Mbox file from the new pop-up select Import directly one or more Mbox files from the given options, and hit the OK button

Last but not least, navigate the downloaded file/folder that you had extracted from Google Takeout and import it into Thunderbird
By doing this, your Google mailbox folder will appear in the Local folder.
Manually Open Google Mailbox Files in Apple Mail
You can do a one-time archive of your Google mail using Google Takeout and import them into Apple Mail. Once you import the data file into Apple Mail you can transfer them to another account in Apple Mail as well.
In order to, how you can open the archive files that you have downloaded from Google Takeout follow the below steps-
Add your account to Apple Mail
The file you have downloaded is in .zip format, so, double click it to unzip the
Now, open Apple Mail
From the appeared Window, go to the File icon from the menu bar and then Import Mailboxes

From the new Import pop-up window, select Files in MBOX format and tap the Continue button to proceed further
Then, navigate the file and click Choose

The mail will import in the Import Folder
If you want to move the mail to another IMAP account, for instance, your personal Gmail account, add that account and then drag the imported folder to the new account.
Final Words 
Many of you have the idea to take a backup of your Google email account with the Google Takeout service but now the question arises "how to open Google Takeout files"?
Hence, in this guide, we have answered this sort of question in a well-defined manner. You can choose any appropriate way to open Google Takeout mailbox files.
FAQ
Q – Will my data hierarchy be the same as before?
No, not at all, Thunderbird and Apple mail or any other MBOX supportable email client are failed to maintain the folder hierarchy as same as before. But, our software is capable to maintain the same folders hierarchy.
Q- Is this given application is compatible with Windows 10?
Yes, the given application is compatible with Windows 10 and all earlier versions of Windows.
Q – Do I have to add my account credentials to open Google takeout mailbox files in this software?
No, certainly not, there is no need to add your account credentials as this application doesn't demand any such pieces of information.
Q- Is there any limit on opening Google mailbox files in this software?
No, under no circumstances, there is no limit to opening Google mailbox files. You can open a file of any size easily.