Import Multiple Contacts From VCF to Outlook 2019, 2016 – Get Perfect Solution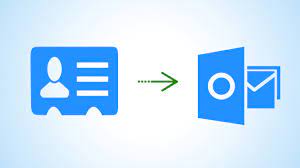 Introduction: Looking for an efficient way to import multiple contacts from VCF to Outlook 2019 and other versions. If so, this is the right place to find a solution to this problem. Read the full blog and continue to follow us to learn more. Let us begin! ! !
As we know, Microsoft Outlook is one of the most popular email clients around the world. It can be used for both standalone applications and multi-user software. It can be used by people as email client servers and also by organizations that need shared functions like mailboxes, calendars, appointments, etc.
User Query 1:"I have Multiple VCF or vCard data files on my phone and I want to import them into Outlook 2016. Importing only the first contact from a file, Outlook doesn't seem to support multiple VCF files at a time. Is there any solution to import multiple contacts to Outlook?"

User Query 2: "Hello! I really need a solution to move the vCard contacts file to Outlook. Even after trying many times, I could not find the best solution for this task. I also tried some manual techniques to tackle this task, but again failed. Now, please suggest some of the most suitable solutions to complete this task as soon as possible. Any help would be appreciated "
Why Users Want to Import Multiple Contacts From VCF to Outlook
There are many reasons behind converting from vCard to Microsoft Outlook. Outlook is the most popular email client and provides users with several special features. Several unique features attract users to import VCF files into Microsoft Outlook. Also, there are several reasons why users would want to add vCard files to Outlook contacts. Come see.
MS Outlook provides correct contact information.

Provide users with an easy-to-understand interface.
Promote useful simple connections to any network.
Compared to other email clients, it provides better security.
Allow synchronization with other devices (like phone, etc.).
What Are the Different Techniques for Transfer VCF Contacts to Outlook?
There are two techniques through which users can accomplish this task:
2: By Using Automated Solution
Manual Method to Transfer VCF Contacts to Outlook
To move a vCard to Outlook, the import function is provided in MS Outlook, but it can only be used for 1 VCF file at a time. Also, this tool is not suitable for importing entire folders.
For example, if you have many contacts, importing a VCF file one by one will be tedious. However, we will explain how to implement this process.
To import a VCF file (vCard), follow the steps below:
1: In MS Outlook, go to the File menu from the Navigation Pane
2: Click Open, select Import, and then select Import and Export Wizard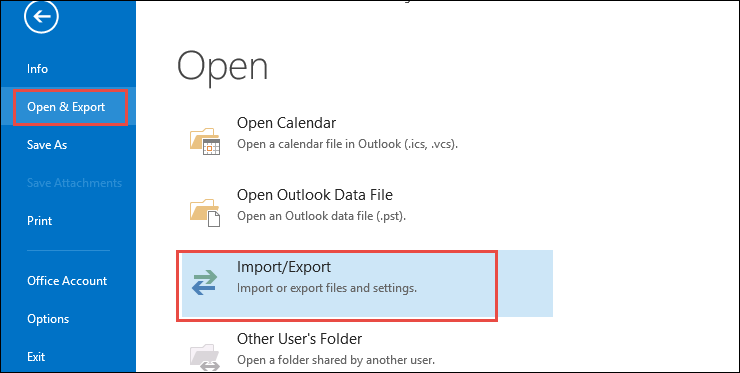 3: Choose an option to import a .vCard (.vcf) file and choose the Next button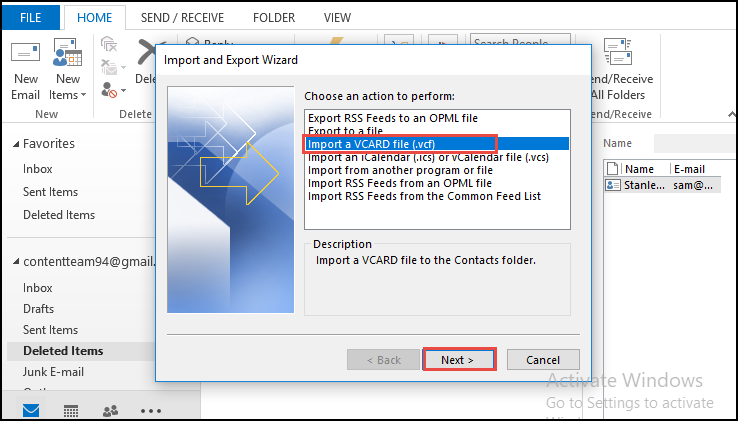 4: Next, you need to explore for the VCF file that you want to export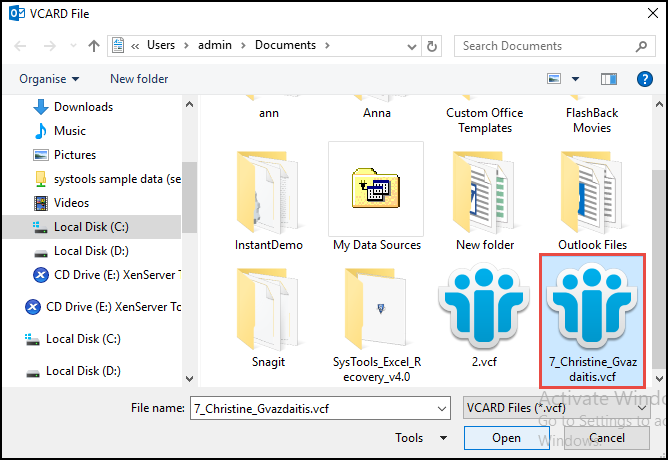 5: Finally, your .vcf file is stored in the specific location that you mentioned.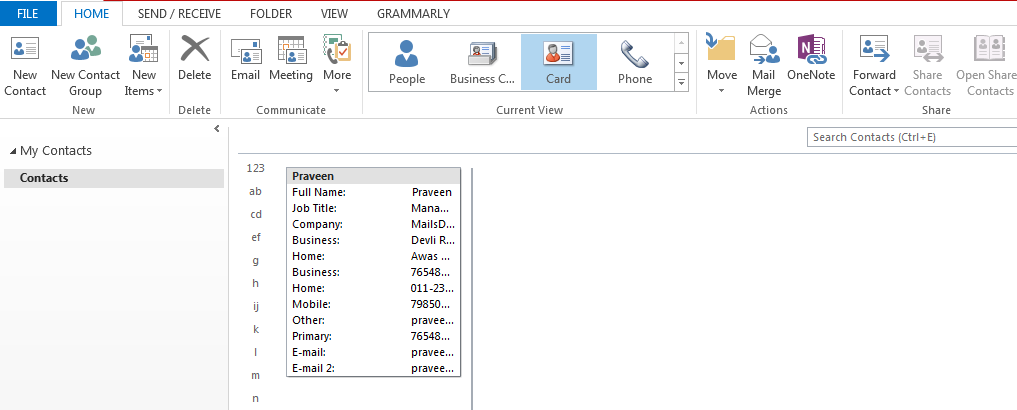 This task is not suitable for transferring multiple VCF files into Outlook. That is why you should choose an Automatic solution. This is the perfect solution to help you import multiple VCF into Outlook 2019, 2016, 2013, 2010. Now let's take a look at all the steps you need to take to complete your job.
What Are the Limitations Users Face When Using Manual Solutions?
Import only the first contact from a VCF file that contains hundreds of contacts.

You also need to map data types from vCard to Outlook, which takes time.
Manual focus is a long and difficult process to migrate multiple VCF contacts.
Repeat this step for each contact file you want to save.
Using manual solutions without the hassle is not for every user. It requires a lot of technical knowledge.
This approach does not allow users to get 100% suitable output results.
Expert Solution to Import Multiple Contacts From VCF to Outlook PST Format
To avoid a lengthy process, you can opt for automated software. There is a software called VCF to PST Converter Software. This application is able to transfer VCF Contacts files to Outlook PST in its original file format easily. The software can easily view VCF file containing all the contact information such as: company name, address, URL, phone number, name, personal email ID, etc.  This tool can work with all versions of Windows. With this solution, users can get 100% accurate results. In addition, it is a completely independent tool and you do not need to install any supporting applications. This is a multi-purpose application, through which users can easily import VCF contact files into another format.
With this app, users can easily perform conversion tasks without hassle. Whether it's an interface that provides a comfortable and hassle-free experience for users, or a process that allows users to perform tasks, everything in this app is great.
Users don't have to do much. To complete the complete conversion procedure to import vCard Contacts to Outlook PST, just sit down for a while and click a few times. The utility is completely reliable and fully automated.
Let's see how the Software works to get better and Easier steps.
Import Multiple Contacts from vCard File to Outlook  – Complete Software Working Steps
Users need to follow a few simple steps to perform this task in the best possible way.
First, Users have to Download and Install Software on Windows Operating System
After that, click on the Select files or Select folder option for uploading VCF or vCard files
Select the Radio button corresponding to the PST Tag. Then click the browse button
Navigate and choose to click the OK button on the user interface of the software
Now, click on the "Export" button to import multiple VCF file to Outlook PST format
Key Features of the Software
Immediately Transfer vCard to Outlook PST: By moving VCF files to PST, this tool can ensure successful conversion without changing any information, which is very helpful.
Unlimited – There is no file size limit. With this software, you can convert multiple contacts at once.
Demo Version: In addition, the software provides you a free demo version for better understanding. Follow the steps and instructions listed on the home screen of the software, you can easily move vCard contact files to Outlook PST format.
Supports all Versions: It supports all the latest Windows operating systems, such as win 11, 10, 8.1, 8, 7, etc.
Winding Up
Finally, in this article, we mention both manual and automated solutions. We have an ideal and smart way to overcome the limitations of the manual method. An easy way to download and install the tool first and follow the instructions to Import multiple contacts from VCF to Outlook all versions. It's a quick and easy way to store and manage your contacts smoothly.