G Suite No Longer Free! Upgrade or Backup! Only Two Options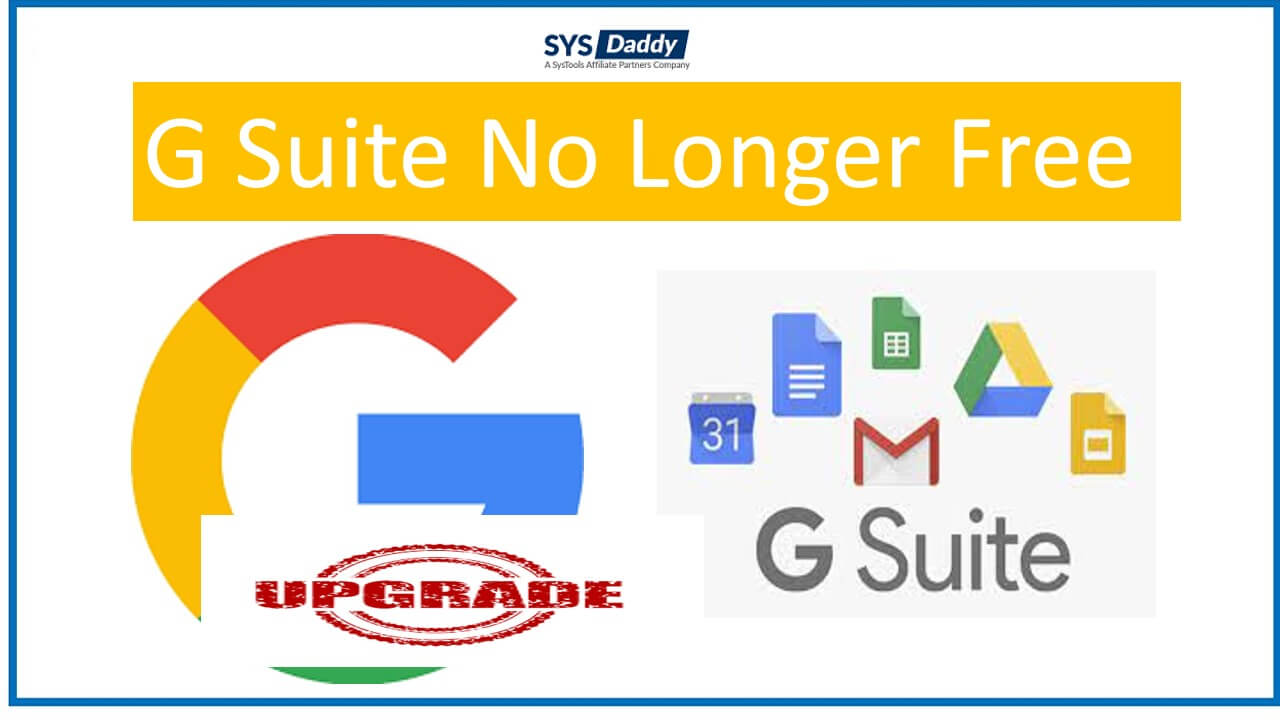 Breaking News!
Google just announced that G Suite No Longer Free from now. Officially the G Suite legacy free edition will no longer be available from July 1, 2022.
Now, after this period, no one will get back to the G Suite legacy for free edition.
So, if you are a user of the G Suite, you must go for the paid versions otherwise your G Suite service will be stopped by May 1, 2022. Therefore, if you buy a premium subscription, Google will let you enjoy the subscription for free until at least July 1, 2022.
Hence, officially you have time to fill the billing before July 1, 2022. Otherwise, Google will suspend your free editions plans. Which will hamper your work in a very serious way.
Also, Google has decided to make the subscription for your organization if you don't switch to the paid subscription by yourself. Whatever the features you are using currently for your business, it will automatically upgrade the free plan accordingly.
If you are using an Enterprise edition, then we have more shocking news for you. Google will not allow any discount and no-cost period to the Enterpriser edition.
Now, the big question is "What to do now"? Don't fret, because you still have two options to get rid of this situation.
Either you can "Upgrade" your G Suite Legacy for free edition or you can take a "Backup" of your G Suite data.
So, to upgrade to the free edition just click the below link. Fill your details and enjoy the paid subscription as per your needs.
G Suite No Longer Free – Don't Want to Upgrade?
We know many of you out there don't want to upgrade the free G Suite edition. In this situation, you can take a backup of your crucial data. To deal with it, you can export your entire GApps data.
The automated tool is the best solution for taking backup of G Suite data. Hence, try the professionally tested SYSDaddy Google Workspace Data Backup Wizard. By using it you can create a backup of your entire Google service data on your desktop. Moreover, it will create a backup in a very short span of time.
You can download the free version of the software from below.
Steps to Take Backup when G Suite Legacy Free Edition not Available
Download the software on your personal computer. Then, follow the steps given below when G Suite No Longer Free-
In the appeared window, select the Categories that you need to take backup

Then, apply the Date Filter to Backup the selective data. Hit the Next button

Afterwards, select a Folder Path for the Backup file. Add your G Suite user account with proper credentials

Finally, hit the Backup button to initiate the Backing Up the G Suite data.
That's it. By performing these simple steps you will be able to take a backup of your G Suite data.
Few Advantages of the Utility
By using this utility, you can take a backup of the G Suite emails, attachments, all folders, contacts, calendar, and more.
It will backup the entire G Suite data in one go on your computer desktop.
Also, you can download and save all the required Google Apps documents. Such as spreadsheets, presentations and etc.
This tool will not hamper your original formatting of any file.
There is an option to take a backup for selective data according to your needs.
Also, you don't require to install and configure the MS Outlook application at the time of backup of G Suite data.
Apart from these, this program is available for both Windows and Mac OS users.
G Suite No Longer Free – Wrap Up
With this news, you may be surprised with this step of Google. So, it's the time to upgrade the G Suite legacy free edition. For this situation, we have brought this article to help you out. Hence, with the help of this article, you will be able to take a backup if you don't want to go for the subscription plan.
The SYSDaddy Software is a trustworthy and professionally tested solution. So, you can use it for creating a backup of your G Suite data effortlessly.