Get G Suite Legacy Alternative Solution Before its Too Late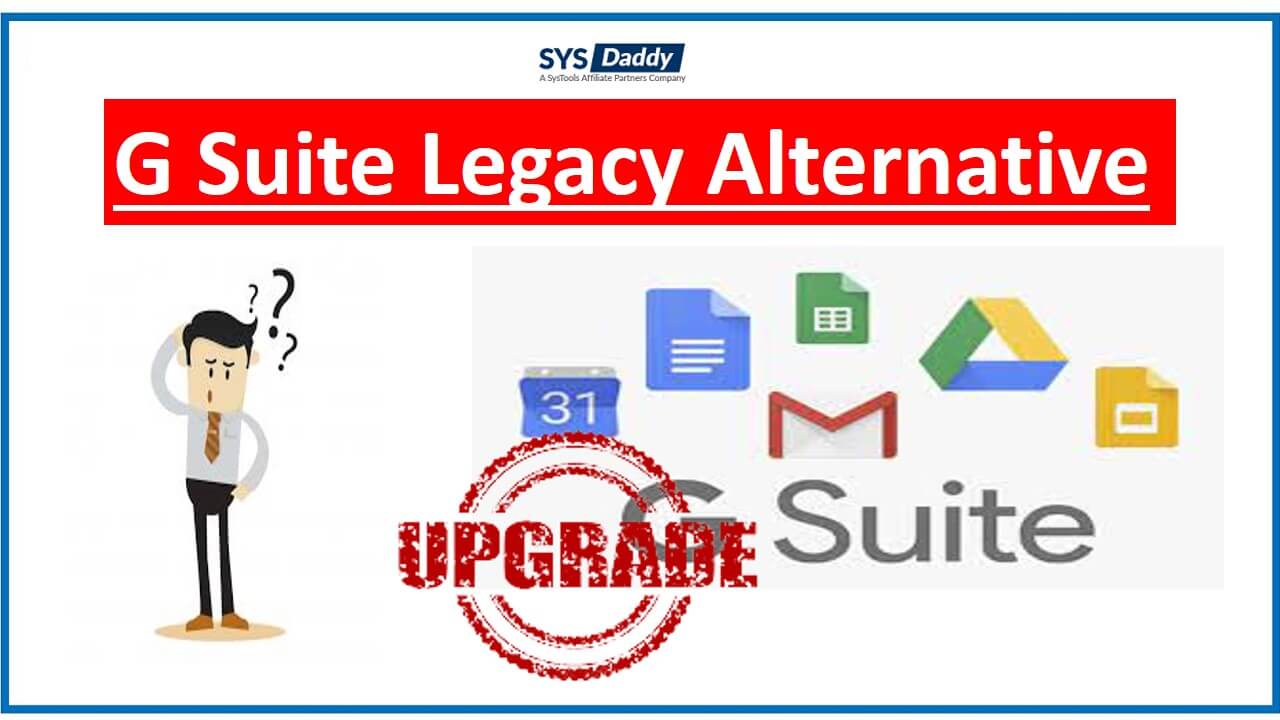 Time ago, Google has offered a free edition of the G Suite. Which was also popular as Google Apps Legacy Free Edition. But now, Google has decided to stop the free edition of the G Suite. The question arise what is the G Suite Legacy Alternative?
According to the new rules, you will need to buy the subscription plan of the G Suite now. However, till 1, July 2022 you will still have a chance to use the subscription for free. But, if in case you won't subscribe or upgrade the G Suite legacy then Google will stop all your service. Or it will automatically select the data on your behalf for the subscription.
Eventually, you will have to pay a reasonable amount to access the service of the Google Workspace now. So, to keep using the Google Services like Gmail, G Drive, Google Calendar, and others you must go for the paid version.
Only the Non-Profit Organization and educational institutions will be eligible to use the G Suite service for free.
But, if you are the person who doesn't want to pay a penny. Then, no worries. Because we have got you covered. To overcome this situation, you'll need to move the data from G Suite to Office 365.
Read the next section to get the perfect solution for this issue.
G Suite Legacy Alternatives – Automated Solution
So, in this situation, you can go for the SYSDaddy G Suite to Office 365 Migration Tool. This is a reliable program you can trust on. This is the simplest software that has been designed while keeping every user in mind. So that, even if you're a novice user, you can easily use it.
As Google Workspace will not be free anymore and you'll face issues while migrating. In such a situation, this tool will work best for you.
Here, it provides a free demo version that you can try. So, to use it download the demo version from below-
Steps by Step Guidelines to Use the Utility
Download the program on your system. After this, follow the steps outlined below in order to move the data from G Suite to Office 365.
Firstly, select the Category and apply Date Filters. Hit the Next option

Secondly, fill out the details like emails and more. Then, click on the Validate button

Now, add Users and click Continue. Import a Group Mapping CSV file

At last, mouse-click on the Start Migration to begin the process.
Key Highlights of the Utility
There are many advantages that you get with this software. But, here we are providing a few of them below. Go through these features to know about the program-
This software keeps all the structure of the G Suite account data. So, whatever hierarchy you have maintained in your Google Workspace account. It will remain the same.
Moreover, there is an option, to use it you can easily move the selective data from the G Suite account to Office 365. Using this category filter you can select the category you are in need of.
In addition, if you want to track the position of the migration process of your Google Apps data to Office 365. Then, here, you'll three options to track the migration stage.
It provides an easy-to-use User Interface. Using it you will be able to use it properly and if you want to stop the migration process in between, you can do this too.
G Suite Legacy Alternative – Author Suggestion
As you heard the news, so you must be prepared for your data backup. We would suggest not to wait until the July 1, you need to start taking a backup of your crucial data into Office 365. So, even if the G Suite Legacy will not free, you must secure your data.
To save yourself from this extra burden on your business. In this article, we have shared the one G Suite Legacy Alternative that you can use to move G suite data to Office 365. You can use the SYSDaddy Software and get rid of this issue and to keep your task running safely.