How to Convert PST File to Word Document?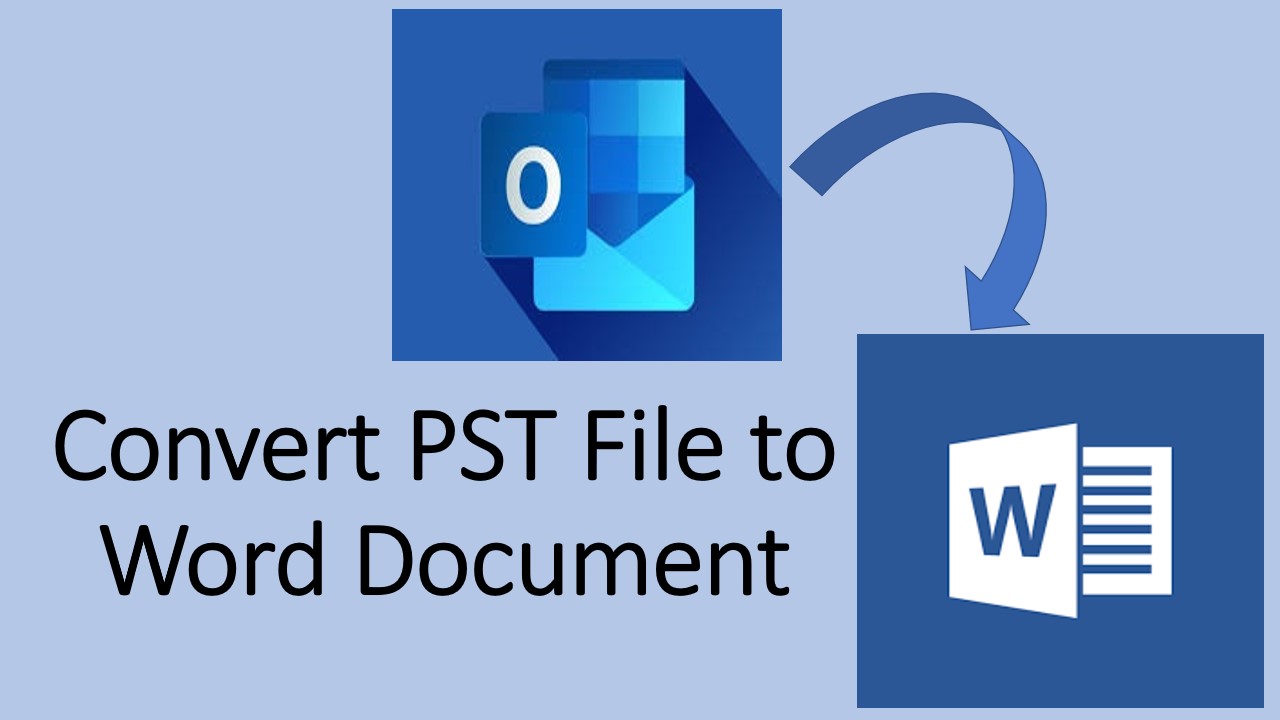 Summary: Is your personal folder have no more space to save data? Now, are you looking for a solution to convert PST file to word document? Do you want emails in document format to print them?
Then, don't fret, because we've got your back. Here, in this guide we have described manual and professional recommended SYSDaddy software to convert Outlook email to the doc. To know more in detail, give a reading to the complete guide.
Table of Content –

User's query
Brief about PST and DOC files
Methods to Convert Outlook Emails to Doc File
Key features
Guidelines to convert PST files to word doc
Conclusion
Practical User's Query
Hi, I am an Outlook user for many years, though, I use this application for my day-to-day important tasks. But, now the personal folder storage is full and I need new emails. So, could anyone brief me on what to do in this situation? Any help would be honored.

I'm no longer interested in Microsoft Outlook and also I want to ensure that I can always keep my emails no matter what email client I use in the future, now, for that, I want to convert all my PST files. If anyone knows how to convert PST to Doc then please help me out. It would be a great help. Thanks in advance.
If you're also facing the same issue and want to convert PST files to word doc then this article is for you. No need to worry now, because we will guide you for the same in a precise manner. So, read the blog to know more about the approaches and make the best use of them.
Related Blogs
Before going further to the approaches let's have a look at the following concern.
What are Outlook PST and Doc Files?
Despite multiple email clients in the market, Microsoft Outlook is the most usable and risk-free application which provides numerous amazing features that helps us to use the application seamlessly.
As we know, by default, a PST file is used by Outlook to store datafile, including emails, contacts, and more. Periodically, due to different scenarios, you may want to convert PST file to Word documents.
Whereas, the DOC file is a word processing document created by Microsoft. It may contain formatted text, images, charts, and other crucial data items.
When you create a document in word, it saves the file in .doc file format. Moreover, it is the best application because it has a feature to format the word documents as per your requirements.
Before going further to the methods to save Outlook email as Word Doc file, let us discuss why there is a need to do so.
Why Need to Convert PST to Word Document?
Well, there could be numerous reasons when Outlook users are in need of Document file, for that they wants to convert PST files to word doc file.
For instance, when you need to send the Outlook emails to someone in hard copy, that time you need to convert the file. To save Outlook email as Word Doc we are here to solve this query with an effective converter
Multiple Solutions to Convert Outlook Emails to Docs
There are two top methods to convert Outlook emails to word document. These are –
Manual Ways to Convert PST Files to Word Document
Microsoft Outlook does not offer any direct option to save Outlook emails to Doc files.
Therefore, if you want to do this then, you will have to put in some effort. Here are some simple methods to do the same. Let us have a look:
Method 1: Use Save As option
First and foremost, click on an email you want to save as a document
After that, File > Save As

In next step, Choose destination > Text only > Save

Now, open the Microsoft word application, go to the File icon and choose the Open option
The dialog box will appear, from that, choose the All files option in the file type. Go to the text file that you have saved before
By doing this, the saved file will appear in a word document, then next, choose the File option in Save As dialog box
Eventually, select the Word Document, and lastly, hit the Save button to convert the PST file to word document.
Method 2: Usage of Microsoft Outlook VBA
Firstly, press the Alt + F11 in Outlook.
Following that, you can open a new module under the Outlook VBA editor window
Now, copy and paste the mentioned VBA codes into it
After that, open the Quick Access Toolbar and add the new VBA project
Subsequently, choose the mail or in Quick Access Toolbar, select the macro tab
By doing so, it will display when you enter the email contents with a Word document
Finally, you can Save a new Word Document.
Limitations of the Manual Method
It's a lengthy process, which will eventually waste your precious time.
Moreover, it is a confusing way to convert PST file to Word document.
Chances of data loss, while saving the file and process it into doc format there is a chance of data loss.
Automated Method to Save Outlook Email as Word Doc
However, we have read above the manual way to convert Outlook emails to word documents but it has some limitations along with it. Hence, in this situation, experts recommended the best solution called SYSDaddy PST file conversion software.
Follow the resource links below. You can purchase the software or download a limited free trial from the buttons given below –
For Windows
For Mac
Key Features of the Utility –
Although there are multiple amazing features of this utility, here, we are sharing a few of the features –
There is an option of scanning files, by using it you can scan the severely corrupted PST files
In this application, you can not only convert the PST files to doc, but, you can do text formatting as well,
On top of that, there is no need to install and configure the Microsoft Outlook application on your system.
There is an option called naming convention which helps you to save the resultant file according to subject , date options.
Moreover, you will get multiple document options to save the file. Such as DOC, DOCX, RTF file formats.
Steps to Convert PST File to Word Document
This application will allow you to convert the PST file data such as emails, contacts, calendars, and more. Follow these simple steps to know how to use the tool –
Without further ado, select Add Files option from the menu bar

Following that, add search for PST file

Then, next, Preview the files along with attachments

Now, choose selected data and select Doc file format

At Last, tap the Export button to begin the conversion process.

Conclusion

Most of the time, being an Outlook user you may want to know the best procedure to convert PST file to Word Document.

Therefore, to ease you, in this guide, we have discussed the manual and automated methods. However, the manual method is easy but it comes with some drawbacks along with it.

Hence, it is recommended to use the mentioned application to convert PST to Word doc files. You can use any method choice is yours.

 

FAQ

Q – Is my PST file data will be safe while using this utility?
Yes, your data is fully safe and secure. You can convert the PST file with full security.
Q – Can I convert my PST files into ICS format?
Yes, you can convert the PST files into ICS and other file formats.
Q- Does this software supports Windows 10?
Beyond a doubt, this software supports all versions of the Windows operating system.