How to Import Mail from IncrediMail to Mozilla Thunderbird?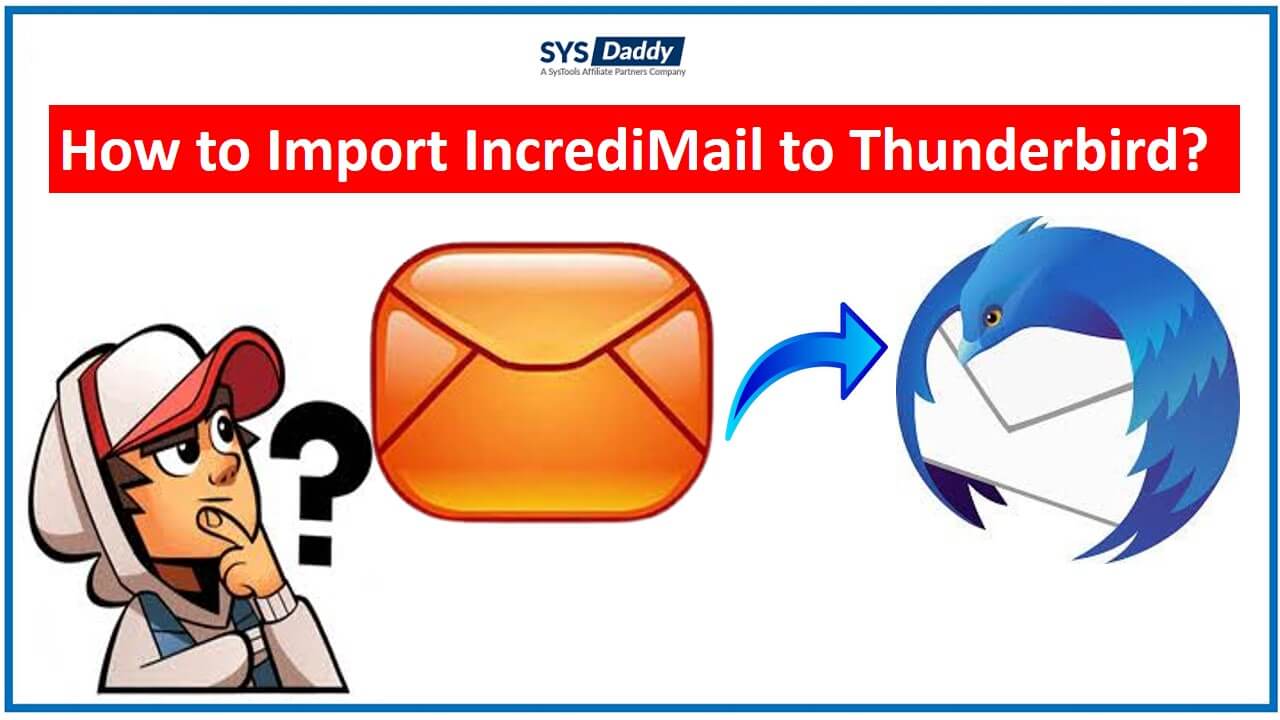 Summary: Do you want to access your emails from IncrediMail into Thunderbird? Are you searching for a solution to import IncrediMail to Thunderbird Mail? Do you also want to import contacts from your IncrediMail to Thunderbird? If all the answers are yes, then, here is the solution you are looking for.
In this article, we will be discussing all the possible methods for this transfer process. So, just stick to this article till the last to know all your answers.
However, IncrediMail is the mail that stores its data in the different files, such as IMM, IM, DB, and IM. But, by the time, it is of no use now. As it is discontinued by its developers. Hence, in this situation, the only solution is to transfer your data to the most portable application.
That's why many of you like to choose to switch to the Mozilla Thunderbird email client. As this is an application that is a free one to use. Along with it, Thunderbird is an open-source email handling application. Although it supports the MBOX file format, so whatever file format IncrediMail was using is of no use. Hence, first, you need to transfer emails from Thunderbird to MBOX. Then, import the MBOX file into Thunderbird Mail.
Now, let's just see how this task can be done.
Import IncrediMail to Thunderbird Mail Instantly
As there is no manual or direct process for this import process of IncrediMail data. Therefore, you should go for a professional solution. One of the reliable and systematic programs that you can trust on is SYSDaddy IncrediMail Converter Wizard. This application will help you to import emails, contacts, and address books from IncrediMail to your Thunderbird mail account.
Moreover, if you want to import your email attachments into Thunderbird account then it will be done. Likewise, if you're using Windows 11 then we have good news for you. This software is compatible with all the versions of Windows OS, either 11, 10, 8, or any earlier versions.
Additionally, you get other file formats also to transfer IncrediMail to Thunderbird. If you're worried about the batch transfer of emails. Then, it is also possible with this superlative application.
Steps to Transfer Emails From IncrediMail to Thunderbird
Download the software on your local computer and then follow the steps to import IncrediMail to Thunderbird Mail –
In the first step, tap on the Add File option from the top left corner

Now, Preview all the IMM files and Folders along with attachments

In this step, select the MBOX format to import emails from IncrediMail to Thunderbird

Lastly, Apply Advance Settings and hit the Export button to complete the process.
Note: As a result, now you have an MBOX file with all the IncrediMail data. Including emails, contacts, and attachments. So, for the completion of the process, all you have to do is import this MBOX file into Mozilla Thunderbird application.
Guide to Import MBOX File into Thunderbird Mail
To complete the process to import IncrediMail to Thunderbird, first launch Mozilla on your computer. Then, follow the rest steps –
Now, click on the ImportExportTool NG in the Thunderbird Mail application
After this, tap on the Tool, and here, pick Add on > Import MBOX file
Lastly, Import directly one or more MBOX files. Then, click Next and hit the OK button to finish the process to import emails from IncrediMail to Thunderbird.
Conclusion
Here, today, in this article we have discussed about the solution on how to import IncrediMail to Thunderbird. The mentioned professional solution as SYSDaddy Software is the best one to go for. With this tool, you will be able to transfer IncrediMail to Thunderbird Mail account easily. As this is a secured platform that ensures you full data security.
FAQ
Q – Do I need to install and configure any other application apart from this software?
No, not at all, you don't require to do anything like this. As this one is the standalone utility to import IncrediMail contacts, and emails to Thunderbird.
Q – Will I be able to transfer my attachments of all IncrediMail emails?
Yes, of course, with this software you can import all data of the IncrediMail account including attachments.
Q – Is this mentioned utility work on Windows 11?
Certainly yes, this utility has been built with advanced technologies, so it supports all versions of Windows including Windows 11.